More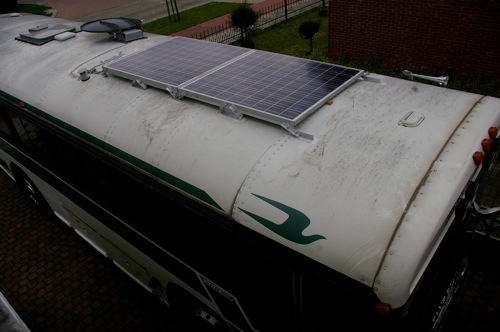 Augustus/september 2010:
Zonnepaneel uitgebreid van 175 naar 350 Wp. Nieuwe huishoudaccu's (samen 460 Ah). Nieuwe wieldoppen. Bumpers zwart gelakt.
Extra PV panel added (now 350 Wp). New auxiliary batteries (2 x 230 Ah). Replaced wheel caps. Bumpers painted black.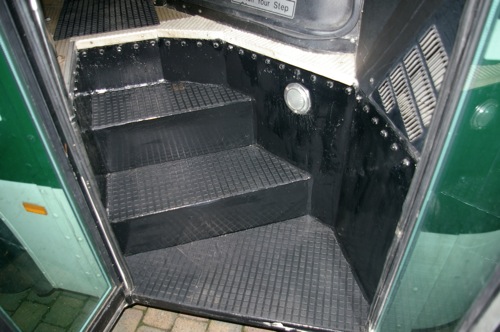 De prijs van neopreen noppenmatten is nogal hoog (ca. € 50/m²). Maar bij Aldi (Duitsland) liepen we tegen deze tuinmatten aan voor € 2.99 per mat (40 x 60 cm). Voor die prijs kopen we gewoon nieuwe als deze versleten zijn!

Neoprene carpeting costs about $ 6.40/Sq Ft. At Aldi's in Germany we found an alternative solution for a fraction of the price: garden mats.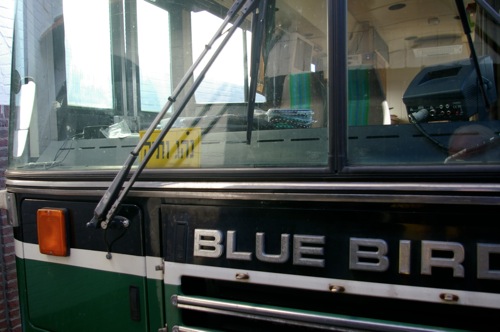 Bij De Wit vond ik een kunststof biesje aan dat bijna paste in het aluminium profiel onder de voorruit. Met een kloddertje kit paste het perfect.

At last I put the lacking black plastic piping back in the profile across the front.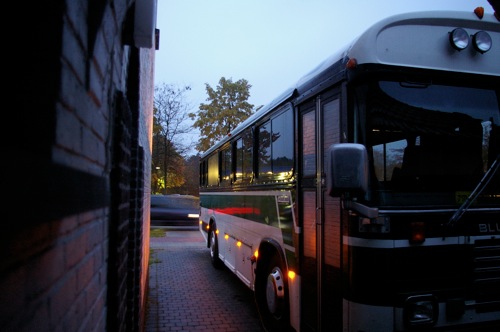 Eindelijk de LED-zijmarkeringslampjes, die we al vele maanden op voorraad hadden, gemonteerd.

2 * 7 LED side marker lights have to add to our visibility.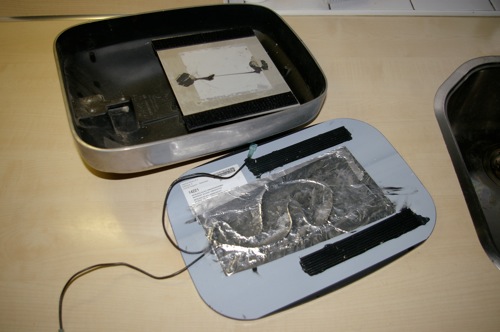 Afgelopen zomer is de rechterbuitenspiegel gesneuveld. Tot vorige week hebben we met een "plakspiegel" als noodoplossing rondgereden. Maar dat was het toch niet... Bij de fabrikant in Elkhart, IN (het centrum van de RV industrie) zijn alle mogelijke vervangingsspiegels te koop voor een paar tientjes. Maar... ze vragen $ 150 om ze naar Europa te sturen. Maar Intertruck levert in Nederland spiegelglazen in alle mogelijke soorten en maten. Ook een die heel dicht bij de beide oorspronkelijke spiegels samen komt. Gewoon af te halen bij Bouwmeester in Tilburg. Het lukte zelfs de verwarming van de defecte spiegel over te zetten.

To replace the broken glass of the right hand side mirror we have been using a plastic stick-on emergency mirror for some months. However, I found the distortion quite annoying. After all, traffic is no funhouse! Rather than ordering the original replacement mirrors (one plane, one convex) which are available quite cheaply at Ramco, but made unattainable by the shipping cost, I replaced them with one larger one, which fits almost exactly. I even succeeded in glueing in the heating element from the broken mirror.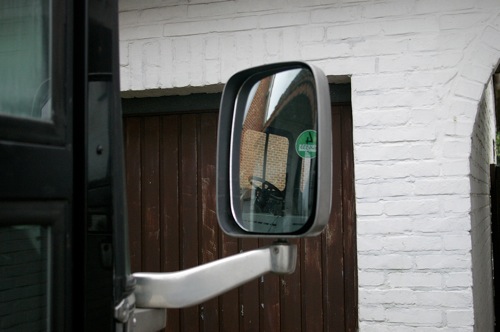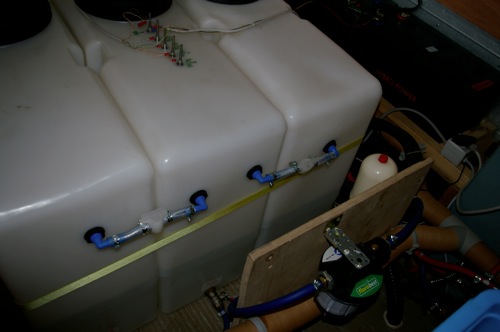 April 2011:
Om de drie tanks sneller te kunnen vullen twee verbindingen gemaakt.

After fitting these connecting hoses I should be able to fill the water tanks more quickly.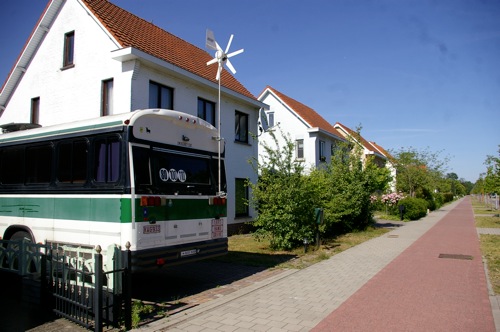 Van de winter kochten we in Portugal van een Duitse collega een Aerogen windgenerator. Gebruikmakend van klemmen voor het neuswiel van een caravan hebben we vandaag een bevestiging achter op Skoolie in elkaar geknutseld.

Today we fitted the wind generator which we bought in Portugal last winter. We used two clamps for trailer nose wheels.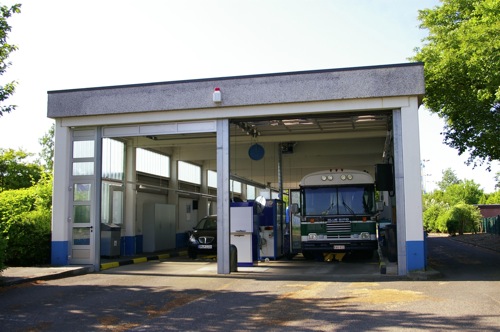 Omdat het chassisnummer moeilijk leesbaar was, heeft de Technische Controle me opgedragen het nummer opnieuw te laten inslaan. Het Ministerie bepaalde dat dat alleen mocht gebeuren door de fabrikant (in Fort Valley GA) of waar het nummer in eerste instantie was ingeslagen (hier, bij de TÜV in Bergheim).

Here, at the Bergheim TÜV test station, the manager himself punched in the VIN again, because it was too hard to read for the Belgian inspection people.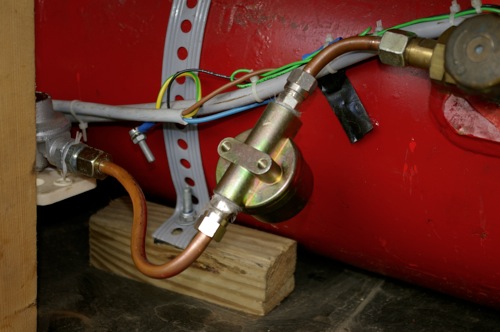 In de gasleiding vandaag een filtertje gemonteerd. Benieuwd of de roetaanslag nu tot het verleden behoort...

A little paper filter should put an end to the soot (burned oil) in the stove.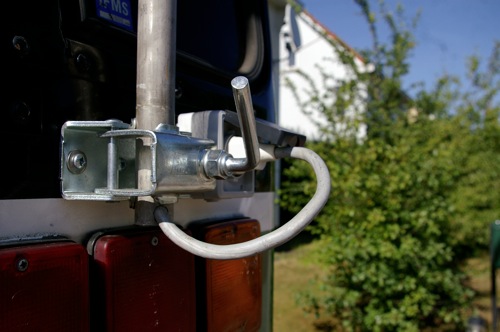 Na het mechanische deel nu ook de elektrische aansluitingen van de windgenerator gemaakt.

The 2nd of June was quite warm. Nice weather to fix the outside electrical connections of the wind generator.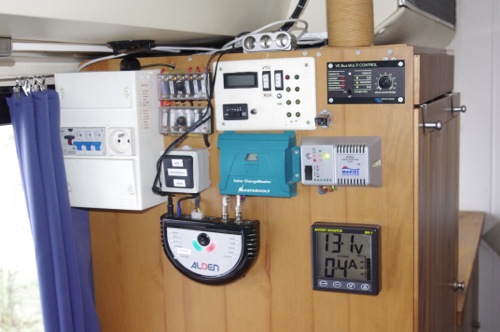 Het zilveren kastje midden rechts is de regelaar van de windgenerator. Rechtsonder is een nieuw instrument dat de huishoudaccu's in de gaten houdt.

The electrical installation is expanded with a regulator for the wind generator and a battery monitor.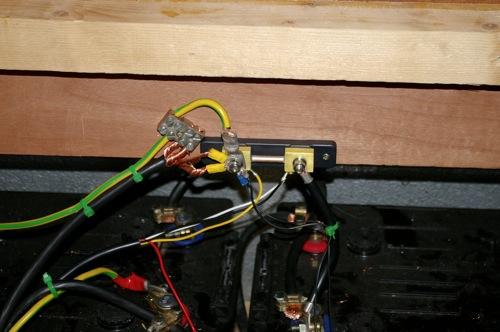 Bij de batterijmonitor hoort deze shunt, die verbonden is met de min-polen van de accu's. Om àlle kabels te kunnen verbinden was een kleine kunstgreep nodig.

To convert currents into measurable voltages this 100 A shunt is connected to the negative battery poles.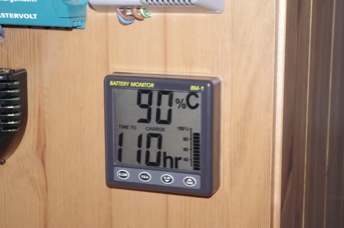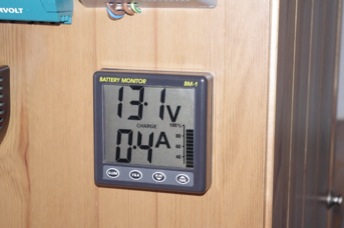 De lading (als percentage van de 460 Ah capaciteit) wordt aangegeven, alsmede stroom en de spanning.
The instrument indicates charge percentage, (dis)charging time, voltage and current.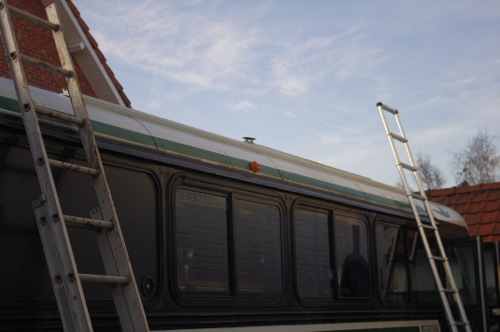 Uit een restpartij kon ik een 5 m lange luifel aanschaffen. De montagerail - die we apart moesten aanschaffen - is met kit en RVS parkers vastgezet.


We found an affordable 16' 20" awning. The matching mounting rail is both glued and screwed.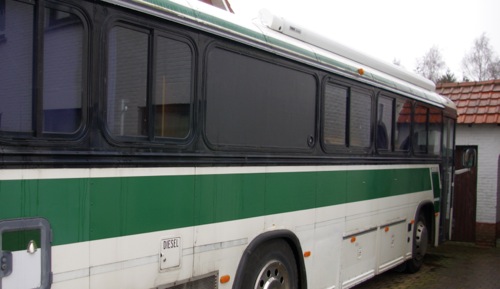 Samen met de buurman de luifel heel vlot in de rail vastgehaakt. De luifel wordt met twee boutjes in de profiel vastgehouden.
With our neighbour's help the awning fitted quite easily in the rail. It is kept in place by only two little stainless steel bolts.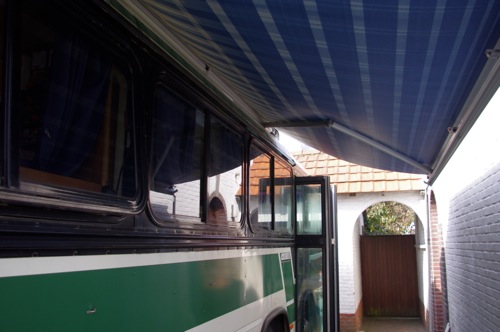 Vandaag (20 maart): begin van de astronomische lente. Het weer hield er rekening mee! De elektrische aansluitingen van de luifel door het dak naar binnen gebracht en proefgedraaid (voor zover daar ruimte voor was).

Spring has come. The weather invited me to go up the ladder and finish the loose ends of the awning.
Go to top of page