Sage-Haast 4
2013

Zomaar wat impressies van waarmee we bezig zijn in Sage-Haast
Some impressions of our activities in and around our new German house
Was machen wir jetzt (in unserem neuen Haus)?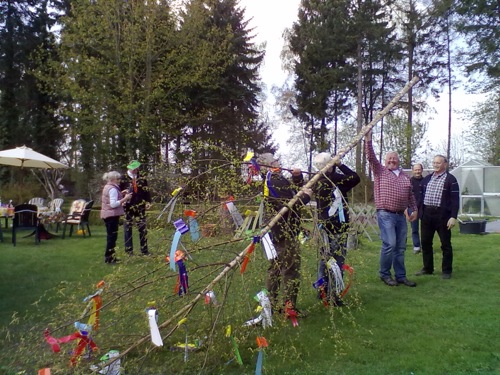 Op 1 mei worden we uitgenodigd om bij de buren te helpen een meiboom op te zetten. Proost!
Although we only have been here for a short while, the neighbors invite us for their May-tree party. A very nice experience! We get familiar with Trester, a spin-off of the Mosel area wine industry.
Wir sind zum 1. Mai eingeladen bei den Nachbarn zum aufstellen des Maibaums.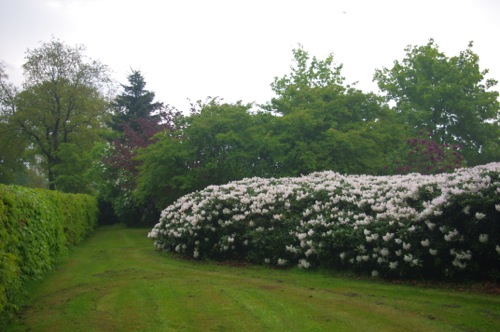 Waren de rododendrons (rhododendra?) in de Antwerpse Kempen overwegend roze en paars, hier zijn ze vrijwel uitsluitend wit. En veel!
Because of the long winter, spring is late this year. But once it started, there were lots of flowers!
In diesem Frühling fangen die Blumen später an als normal (Anfang Mai). Aber dann sind es auch sehr viele!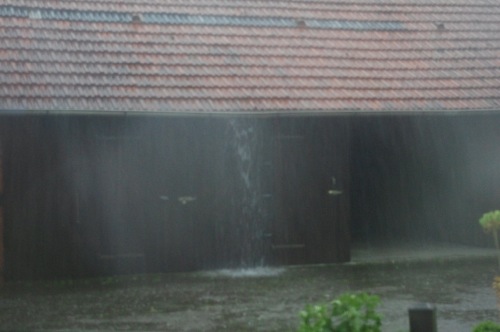 Op 20 juni beleven we een giga-regenbui. Zelden zoveel water in korte tijd naar beneden zien komen!
A torrential downpour which the gutters couldn't cope with…
Am 20. Juni gibt es einen Platzregen, den die Dachrinnen nicht bewältigen konnten.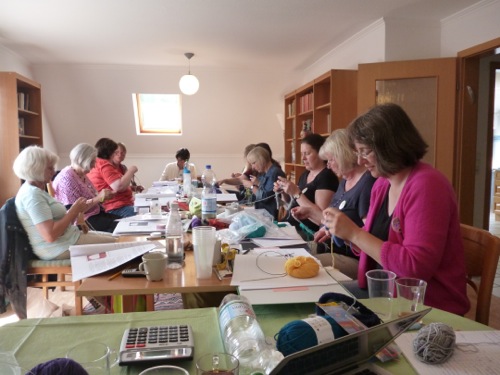 Meteen na de langste dag is Sylvia gastvrouw van een brei-seminar, georganiseerd vanuit de Duitse poot van Ravelry.
The upstairs reception room serves as class room for a Ravelry knitting seminar on June 23rd.
Ein Strickworkshop von der amerikanischen Designerin Vera Sanon bei uns im Obergeschoß. Das Thema ist Top-Down Stricken mit Raglans, eingesetzten gleichzeitig gestrickten und später angestrickten Ärmel, und Contiguous Methoden.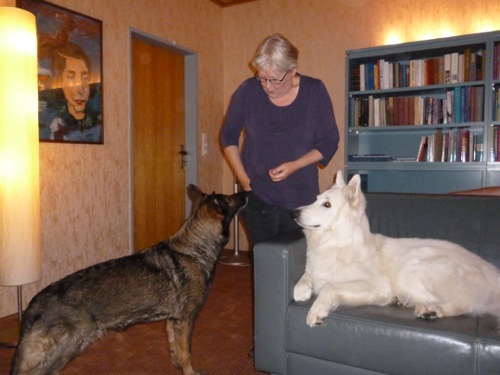 Een van de deelnemers aan het seminar is onze Mensa-vriendin José met haar superzoete Duitse herder Dyna. Motek heeft eerst wat bedenkingen, maar bij zoveel zachtheid kan hij zich alleen maar neerleggen.
Participants even come from the Netherlands. I.e. our long time friend José with her very sweet GSD Dyna. Motek and Dyna tolerate each other but do not (yet) become good friends.
Unsere Freundin José bringt ihre Schäferhündin. Die süsste die man je gesehen hat.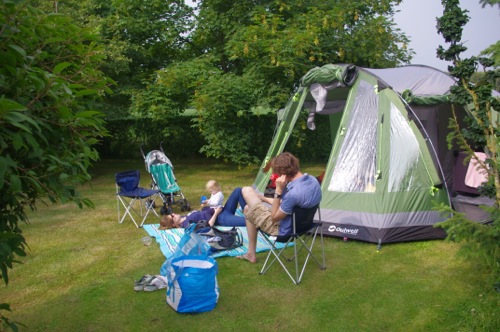 Begin juli hebben we een familiefeestje. De tuin bewijst prima diensten als kampeerterrein. Het weer werkt 100 % mee.
Our garden serves as camping ground for a family meeting in July.
Bei einer Familienversammlung im Juli zelten Tochter und ihre Familie, Ernst's Schwester und Sylvia's Bruder im Garten.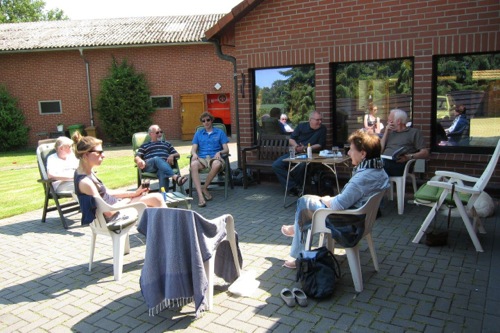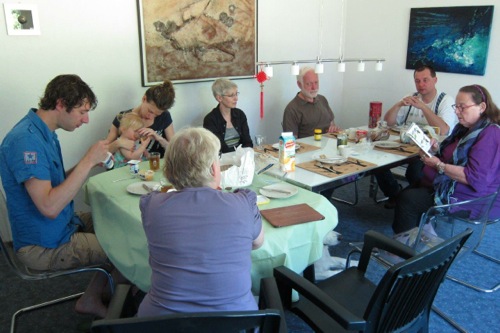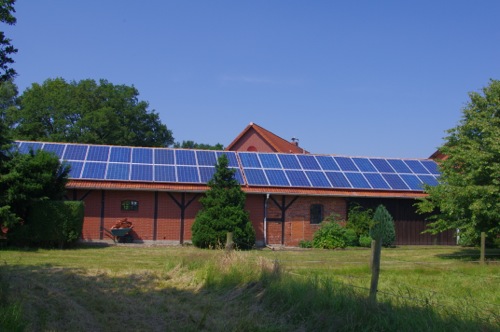 Ook in juli worden er PV panelen op de schuurtjes gemonteerd.
We have decided a couple of weeks ago to try to lower our energy cost by generating some energy ourselves. Now the modules are installed.
Schmidt Solartechnik installiert im Juli eine PV Anlage auf den Scheunen mit ihrem Süddach.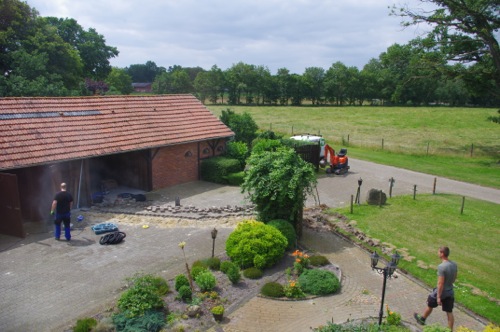 Omdat de oprit open moet, heb ik voor dag en dauw de auto buiten geparkeerd. Hier zie je het verloop van de grondkabel van de wisselrichter in een schuurtje naar de meterkast in het woonhuis.
The inverter finds its place in a shed, right under the PV modules. From there a cable is led to the switch board in the house.
Ein Grundkabel wird von der Scheune nach dem Haus gezogen. Am Abend ist fast nichts mehr davon sichtbar.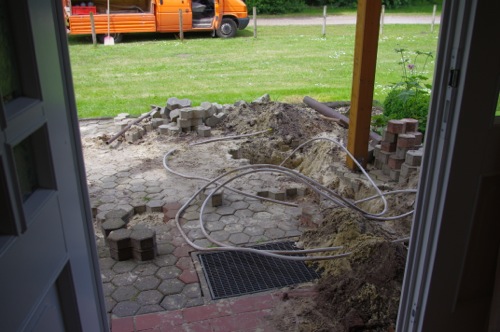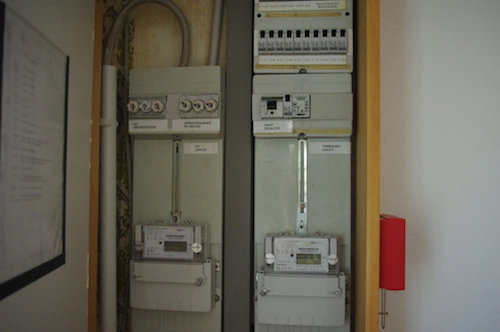 Er wordt een extra kilowattuurmeter geplaatst.
The extra kWh meter is registering the yield of the PV installation.
EWE installiert einen extra Stromzähler für die PV Anlage.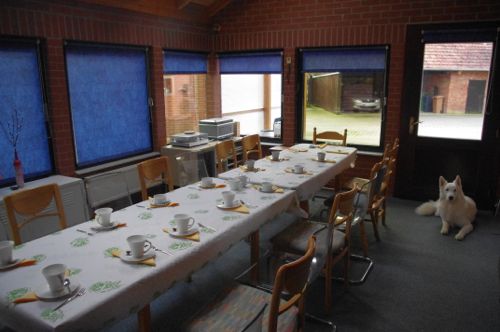 November 2013. Om de buren wat beter te leren kennen, organiseren we een bijeenkomst met koffie, taart en een borreltje. Motek is er helemaal klaar voor.
A meeting  with all our neighbours. We serve coffee, (home baked) cakes, (Dutch) liquor and (German) beer.
Kaffee und Kuchen für die Nachbarschaft. Motek wacht!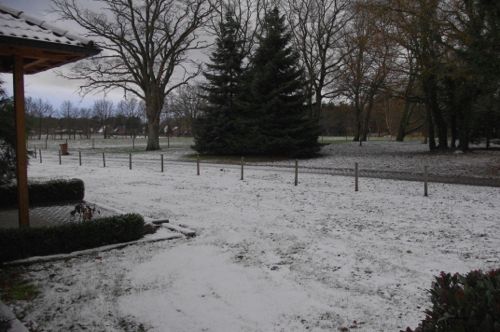 6 december 2013: de eerste sneeuw.
The first snow this Winter (Dec 6th, 2013)
Am 6.12.2013 fällt der erste Schnee. 
2014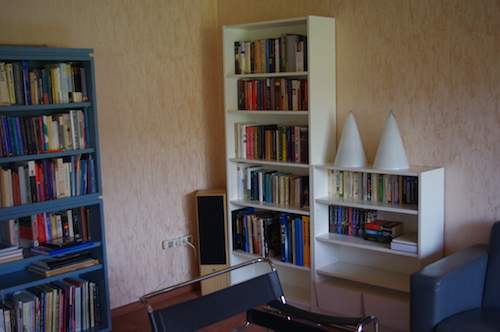 Onze vriend Bob gaat kleiner wonen en heeft ons bedacht met een Octavia vol boeken. Die verdienen, net als alle andere boeken, een fatsoenlijk plekje.

Some extra shelves to house the books that were given to us by a friend who is downsizing.

 Go to top of page