Sage-Haast 2
2013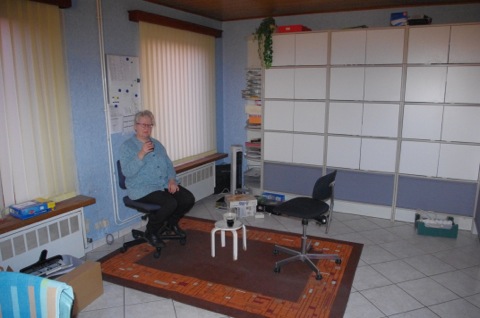 Beerse begint al wat leger te raken.
Here once was our desk with computers.

Unser belgisches Haus wird leerer und leerer.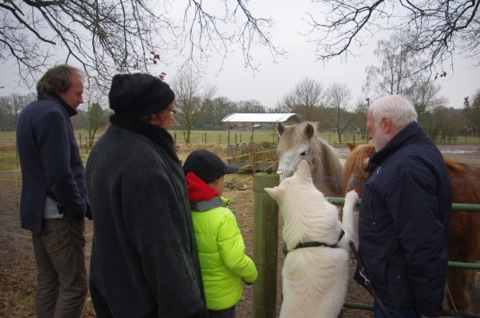 Klein wandelingetje rondom het huis met onze bezoekers. Motek en de paardjes zijn hogelijk geïnteresseerd in elkaar.

Dogs and horses seem to be attracted to each other.

Hund und Pferd: genau so neugierig.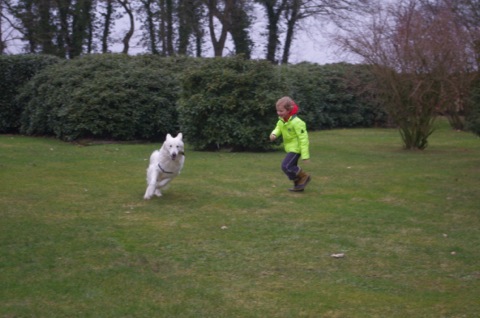 Teun's stok gepikt. Pak me dan, als je kan…

Nice little game: catch me if you can. No way!

Spiel im Garten.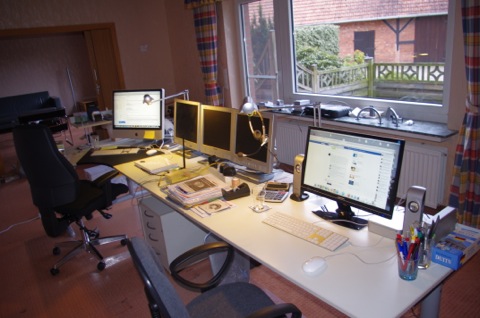 Langzaam maar zeker komt het zenuwcentrum van de grond.

Sittig & Stawski HQ are being constructed.

Computers mit schönem Blick.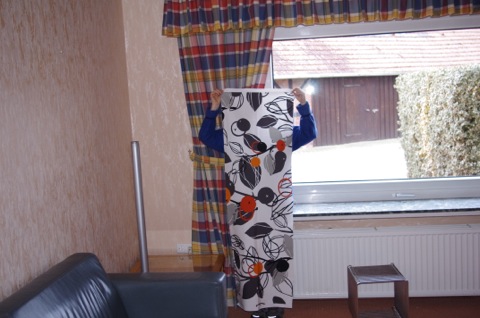 Geen Afrikaanse jurk, maar een staaltje voor de kleur.

Sample of colorful cloth for possible new curtains.

Wie geht diese Farbe mit Tapete und Teppich?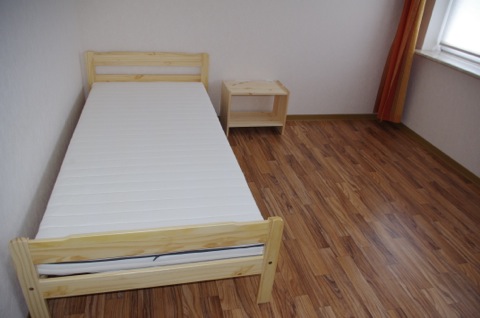 Extra logeerbedden.
Two more guest beds. Constructed from a DIY kit.

Gästezimmer für Familie und Freunde.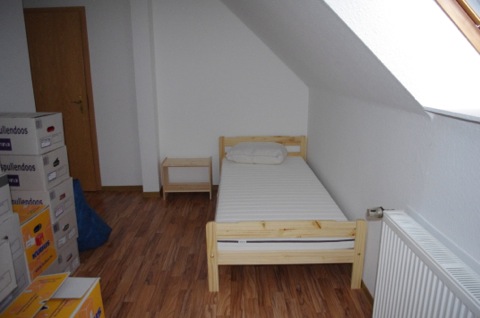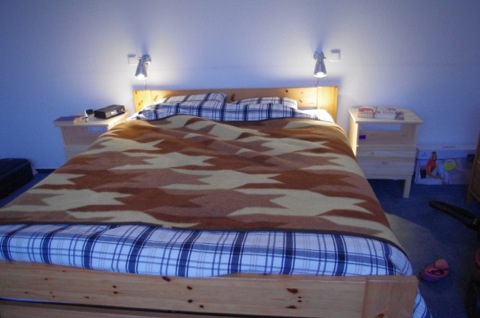 Leeslampjes en nachtkastjes bij ons bed zijn ook wel handig.

Two more little DIY kits and two reading lamps.

Leuchtdioden zum Lesen im Bett.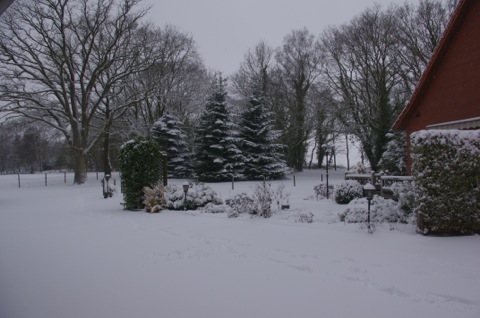 's Nachts heeft het weer dik 10 cm gesneeuwd.
Will this be the last snow of this Winter?

Und wieder ein wenig Schnee.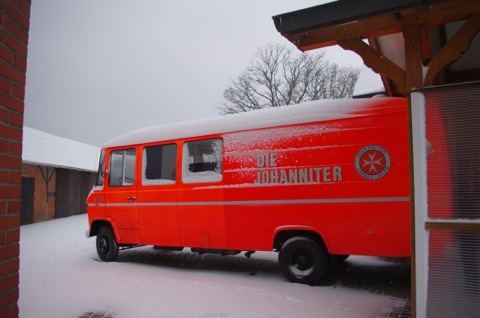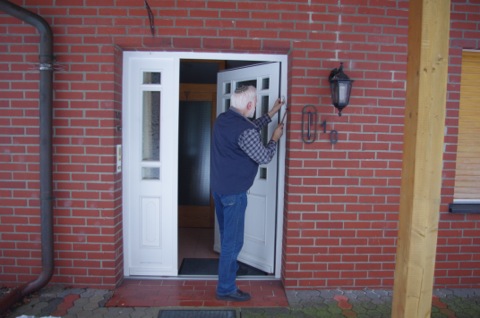 Hoog tijd voor de eerste van de mezoezot.
Now that it looks like we are really starting to live here, it is time for a first mezuzah.

Mesusa an der Haustür.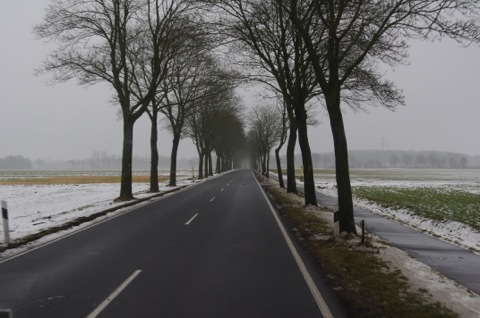 En via de B213 weer richting Denekamp. Op naar de volgende lading.
And back to Belgium again to pick up a next load of furniture.

Wieder nach Belgien um Möbel usw. zu sammeln.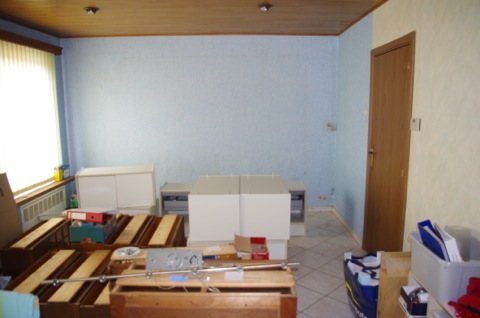 De kantoorkastenwand en twee boekenkasten zijn gedemonteerd en deels ingeladen.

The whole office cabinet wall is taken apart and loaded for transportation.

Die ganze Büroschrankwand ist hier auseinander genommen und fertig für den Transport.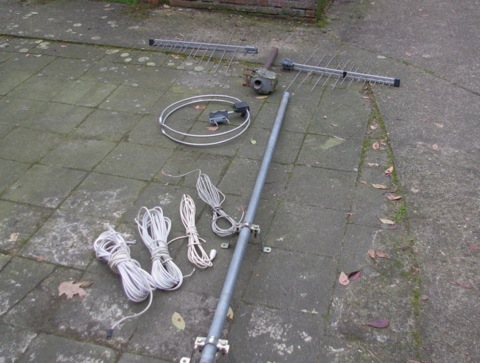 FM-, DAB- en DVB-T-antenne zijn naar beneden gehaald. De laatste periode in Beerse doen we het met satelliet.

As from now, we only have satellite TV in Belgium. All other reception modes are being moved to Germany.

Der Mast für UKW, DAB und DVB-T ist demontiert. Die letzte Periode in Beerse muß Satellit genug sein.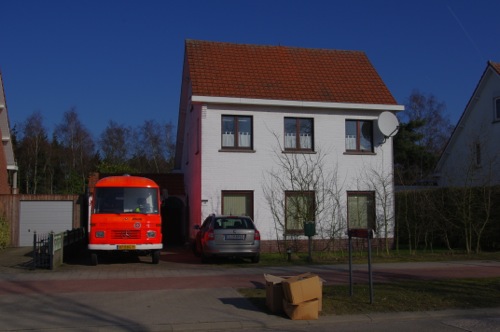 Klaar voor de volgende rit.
Loaded van, ready for the next haul.

Transporter, zur Abfahrt bereit.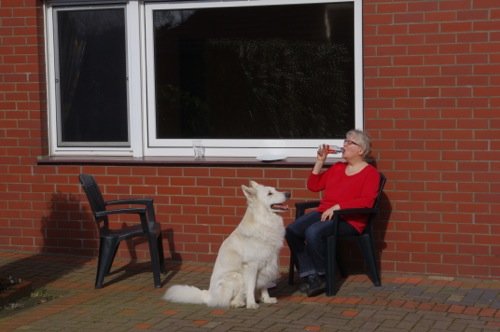 Vorige week vroor het, nu is het +16℃. Helaas is het mooie weer niet blijvend.

First nice day this year. After two days, the temperature drops to freezing again.

Zwei schöne Tage zwischen Schneeschauern.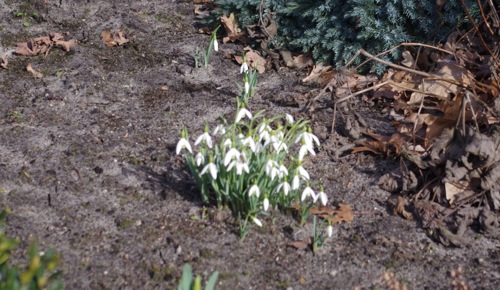 Sneeuwklokjes in maart.

Snowdrops in March.

Schneeglöckchen in März.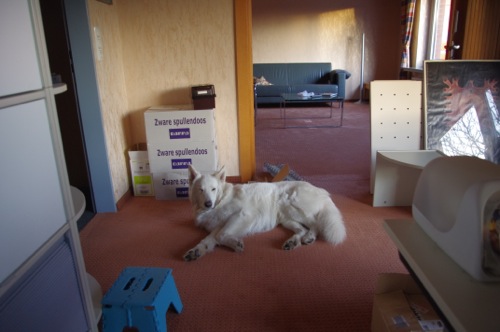 Motek is heel enthousiast over de vaste vloerbedekking.

Motek prefers carpets over tiles.

Sanfte Teppiche für den Hund.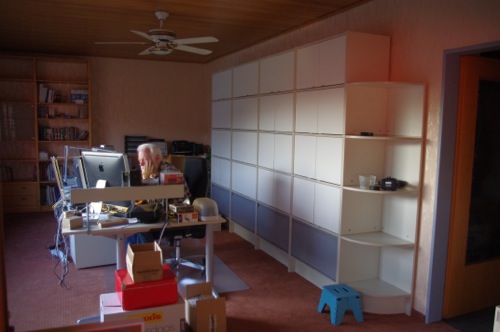 De kastenwand weer opgebouwd.

The office cabinet wall put into place.

Die Büroschrankwand wieder zusammengebaut.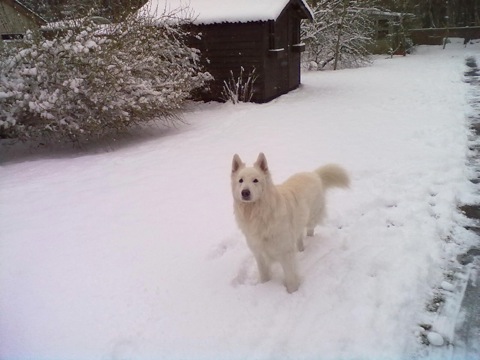 En toen was het opeens weer winter. Er is er ééntje die dat helemaal niet erg vindt!

Six inches of snow slow down our loading. Motek doesn't mind…

Am 12. März: wieder Schnee! Motek geniesst.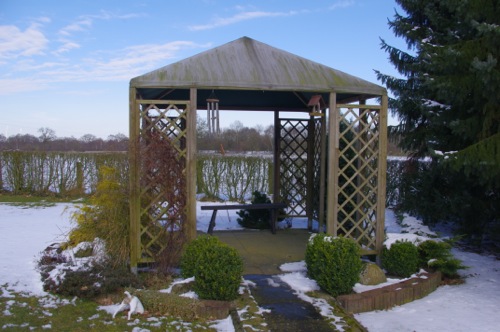 Ook in Sage-Haast ligt nog sneeuw. Phoebe graaft weer en de windharp begeleidt haar met vriendelijke geluidjes.

The wind through the arbor makes the windharp (present from BJ and Charlie for our Beerse house) play its soft music. Phoebe (present from Oele and Jan Willem) keeps on digging.

Die Windharfe spielt leise Musik, während Phoebe gräbt.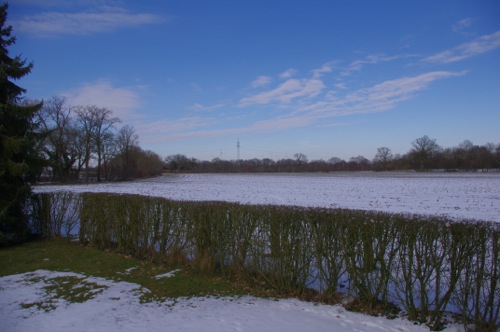 Deze akker hoorde oorspronkelijk ook bij ons huis. Intussen apart verkocht.

The field which originally belonged to our house.

Dieses Feld war einst ein integraler Bestandteil des Grundstücks.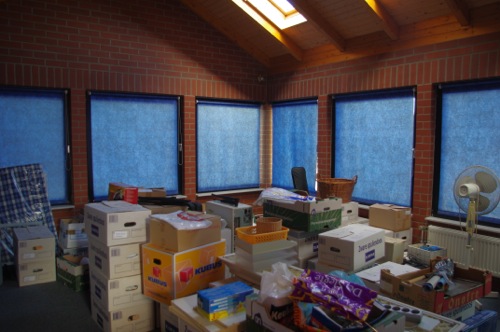 Er valt nog wel het een en ander uit te pakken voor we de "Wintergarten" kunnen gebruiken.

We're not yet completely done ;-( We're also not yet sure what we'll use the conservatory for.

Es gibt noch eine Menge Arbeit. Jetzt ist der Wintergarten im Einsatz als Aufbewahrung.
Go to top of page