Sage-Haast 3
2013


Uitpakken… uitpakken… uitpakken. Waarom hebben we zo veel boeken?

Unpacking ... unpacking ... unpacking. Why do we have so many books?

Auspacken ... Auspacken ... Auspacken. Warum haben wir so viele Bücher?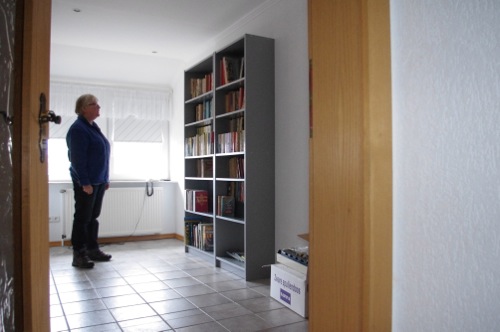 Een deel van onze boeken vindt een plekje op de overloop van de eerste verdieping.

Some of our books find a spot on the landing of the first floor.

Einige unserer Bücher finden einen Platz auf dem Treppenabsatz im ersten Stock.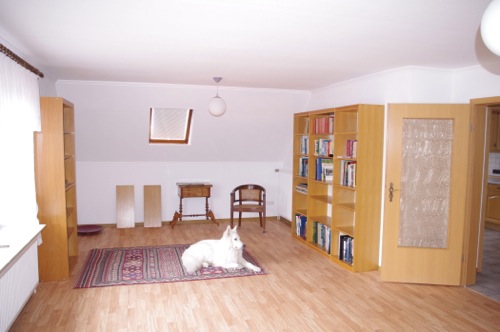 Een paar boekenkasten op de eerste verdieping wordt gevuld.

Upstairs living becomes library.

Bibliothek im Obergeschoss.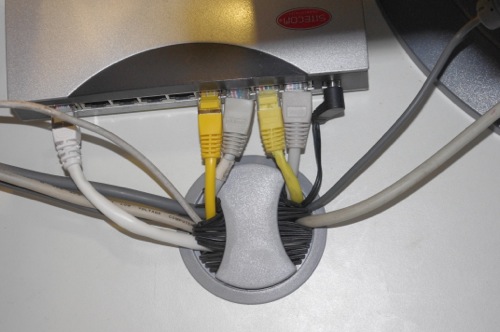 Een stel gaten geboord in ons bureau op alle kabels rechtstreeks naar de kabelgoot ònder het bureau te leiden. Dat hadden we veel eerder moeten doen!

Drilled some holes in our desk to tidy the (many) cables. Looks a lot better.

Eine Reihe von Löchern in unserem Büro gebohrt um den Kabelsalat ordentlich zu machen.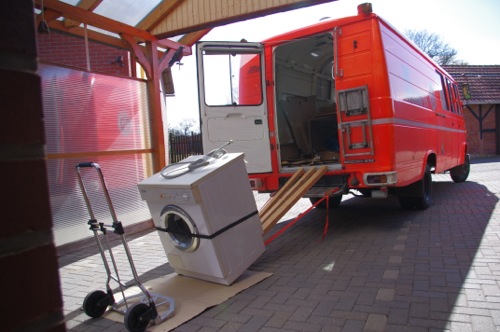 Geïmproviseerde glijbaan om de wasmachine te lossen werkt prima.

Three beams make an excellent tool to unload the heavy washing machine.

Die Waschmaschine ist vielleicht den schwersten Gegenstand den wir transportieren mussten.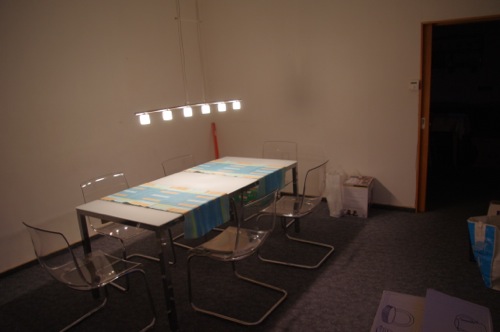 Het glazen tafelblad heeft de reis overleefd.

Now the dining room can be used for… dining!

Der Glastisch in seiner neuen Umgebung.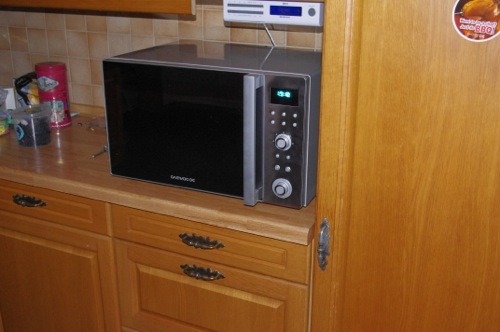 Het blijkt steeds moeilijker een combi-magnetron te vinden met een draaispit. Maar we hebben er een gevonden!

Daewoo probably make the only microwave oven with rotisserie.

Endlich gefunden: Mikrowelle mit Drehspieß.

We hebben nog een alternatief geprobeerd, maar Motek weigerde mee te werken.

This solution doesn't require electric energy. Motek was against...

Um 1800 verwendete man einen Hund um den Drehspieß zu bewegen. Leider wollte Motek nicht mitarbeiten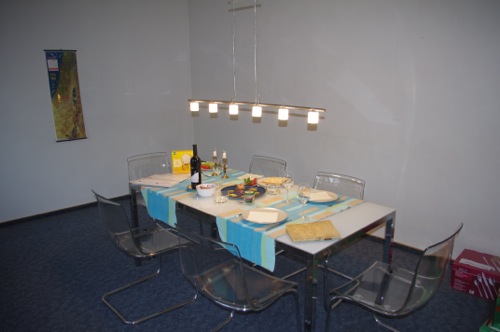 Nog tussen de verhuisdozen - de gedekte sedertafel. Chag same'ach!

The first Passover in our new house. Twice Shehecheyanu!

Unser erster Sederabend in Großenkneten.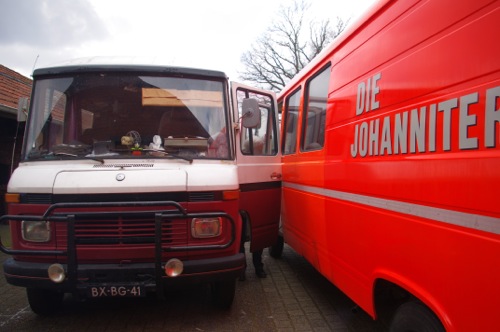 Na een gezellig weekend bleken de accu's van Ton en Christien leeg. Startkabels werken niet geweldig in combinatie met een 12-24 V startrelais. Aanslepen kostte echter maar een paar meter.

Here we try to start Ton's camper van with jumper cables. It didn't work. Towing turned out easier than expected.

Unsere Freunde Ton und Christien waren hier fürs Wochenende. Als sie abfahren wollten, war ihre Batterie leer… Hier versuchen wir es mit Jumper-Kabel.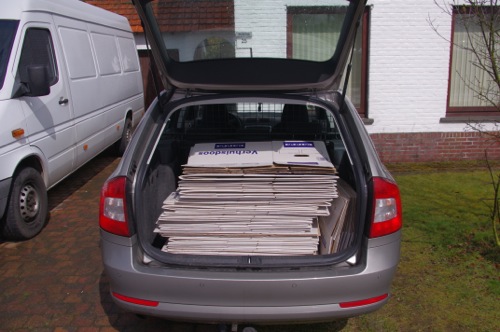 Het eerste deel van de geleende verhuisdozen kan terug. Bedankt, Ria en Bob!

These boxes have provided good services and are no longer needed. Thanks for borrowing!

Diese Kartons werden nicht mehr benötigt und können zu ihren Besitzern zurückkehren. Vielen Dank!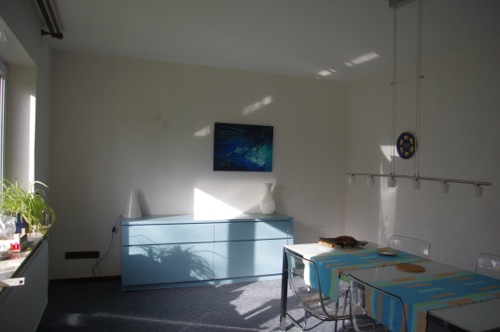 Uit de boedel van een overleden familielid geven we een tweede leven aan een mooi blauw dressoir en een bijpassende boekenkast.

From the estate of a deceased family member we give a second life to a beautiful blue cabinet and a matching bookcase.

Aus dem Nachlass eines verstorbenen Familienmitglieds geben wir ein zweites Leben zu einem schönen blauen Schubladenschrank und einem passenden Bücherschrank.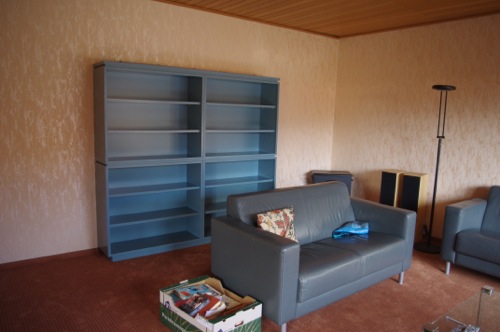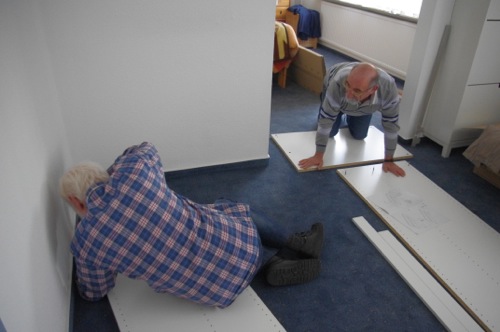 Samen met Ben lukt het een hoge Pax in recordtijd te assembleren en op z'n plaats te zetten.

With Ben I put a fourth wardrobe in the dressing room. Never was a Pax cabinet assembled so quickly.

Als Paar arbeiten wir viel schneller. Nie wurde ein Pax-Kleiderschrank so schnell montiert.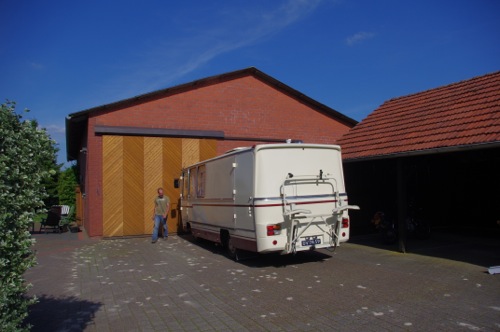 De tweede week van juni (2013) kwamen Christl en Peter met hun Van Hooltje een paar dagen op ons erf staan. Peter had, met z'n twee rechterhanden, in no time de grasmaaier gerepareerd en het grootste deel van ons grondstuk gemaaid!

Dutch friends came to visit us with their motorhome. Peter - who is extremely handy -- assisted us on quite some jobs that needed doing.

Freunde aus Holland besuchten uns mit ihrem Wohnmobil.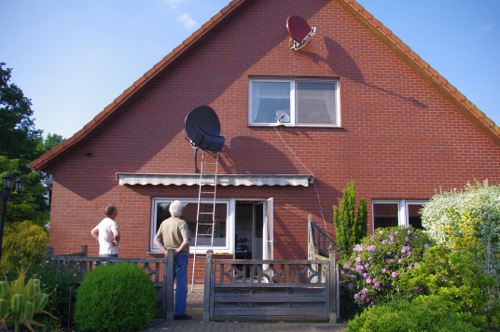 De aanwezige schotel - alleen maar Astra 1 - heeft kuren. Daarom was het hoog tijd de nieuwe schotel, vorig jaar al gekocht bij Sounds and Visions in Nederland, te installeren. Peter liep moeiteloos de ladder op met de zware nieuwe schotel onder z'n arm. Het lukte niet de LNB's uit te richten.

It was time to install the satellite dish which I bought in Eindhoven last year. Peter took it up the ladder without any trouble. However, we didn't succeed in adjusting the dish to get a usable signal.

Peter hielf uns mit der Satelliten. Leider gab es (noch) keinen Empfang.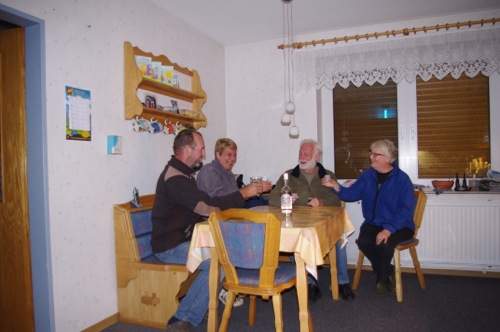 Na gedane arbeid is het goed borrelen.

Working hard makes thirsty.

Ein Schnapps, nachdem die Arbeit getan ist.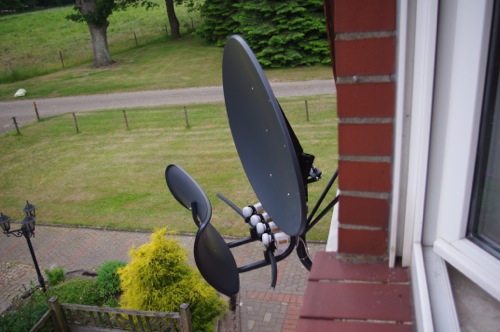 De volgende dag verder gepuzzeld op de schotel (een Wavefrontier T90). Bleek dat de ontvanger naar niet meer bestaande transponders zocht… Met een 'ouderwetse' satfinder was het instellen in een kwartiertje gepiept. Na Astra 1 was het finetunen van Astra 2, Astra 3 en Hotbird samen een kwestie van tien minuten! (Aan de polar mount in Beerse heb ik vele uren besteed.)

It turned out the receiver didn't get a signal because it was looking for the wrong transponder. With the good old satellite finder adjusting the dish and the LNBs was as simple as ABC..

Mit dem altmodischen Satellitenfinder war es ein Stück Kuchen.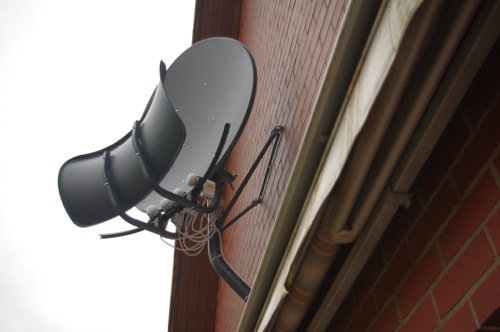 Het niveau zit voor alle satellieten boven de 80%, de kwaliteit van het signaal tussen de 80 en 100%.

Reception is better than we ever had it with our movable dish in Belgium.

Empfang ist jetzt wunderbar, besser als wir je gehabt haben in Belgien.
Go to top of page