Year 2022
2022
Now that 2022 rushes to a close, we think it is time to write a brief retrospective. We are happy to share the result with you.
This year was particularly marked by Motek's farewell. July marked the end of nearly 13 years of almost continuous companionship. And furthermore, we continued to search for cures for a number of - not life-threatening- annoying ailments, notably the pain/itching since the shingles of 2019 and Sylvia's chronic muscle pain that prevents her participation in the local walking group and against which physiotherapy so far has not offered a suitable answer.
Instead of a long trip, we limited ourselves to a few short trips this year.
Also worth mentioning is passing the F exam as a radio amateur and setting up a shack and some matching antennas.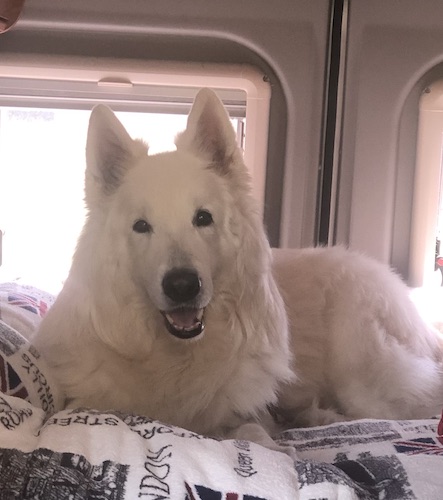 January
We spent the New Year at motorhome site In De Verte in Lottum (Limburg), where the fireworks nuisance (for Motek), while less than in Haulerwijk, was by no means absent. On the way back, we visited Marjet in Doorn, a fellow pupil of the grammar school of 55 years ago.
At GGMD in Groningen, I spent the first six months receiving counselling on getting used to live with tinnitus; then in the second six months a training on "Living with Hearing Loss". Unfortunately, two problems that reinforce each other, but against which GGMD helped me arm myself.
Every week I received lessons from PA1PG Petter to prepare me for the exam for a ham's license next May. Since I was the only student, and since Petter is very automotive, I received private lessons at home. What a luxury!
For years, Sylvia has been jealous of the Brazilian recliner (by Lafer) we bought (on my size) in northern Germany in 2013. Although there are countless easy chairs for sale, for the appearance of the room we thought it desirable to buy a matching one. We found two, one in Australia and one in Paris. We were able to buy the latter through the French auction site Selency. We are still happy with it.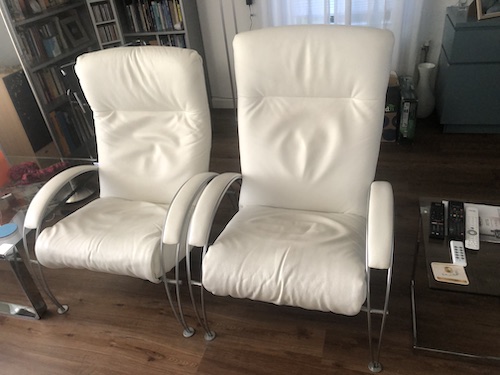 I took the excess old computers to a charity in Roden, where they will be prepared for a second life with people who otherwise would not have been able to afford a computer.
Motek is ailing, his liver values are worrying. He has the necessary medication, a special diet, and we visit the vet regularly.
February
This month, an FTU (Fibre Termination Unit ) was connected in the meter box. We had hoped that the announced fibre connection would be ready before our move (1-1-2021). No such luck! See also December!
Sylvia joined the local branch of the Today's Women association, which includes interesting lectures. Unfortunately, the future prospects of this branch are not great.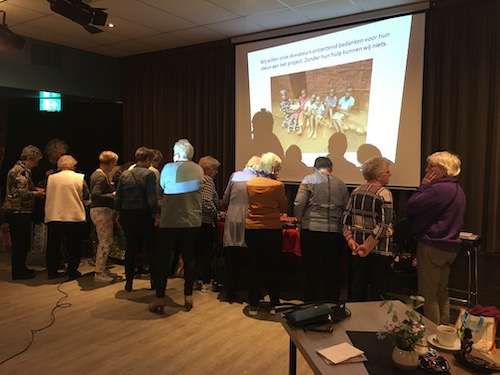 Jewish Welfare organised a day trip to the giant shul in Groningen, complete with a walk through the old Jewish neighbourhood. Sylvia was quite impressed.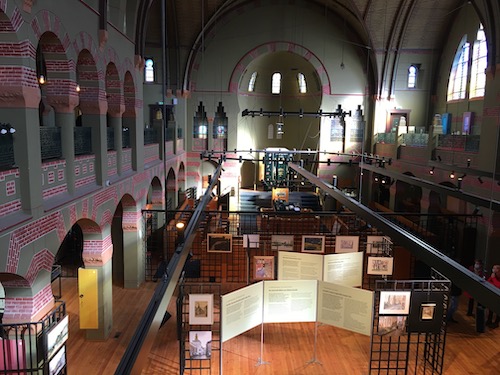 March
Ernst qualified for his Covid booster this month; Sylvia was too young for it.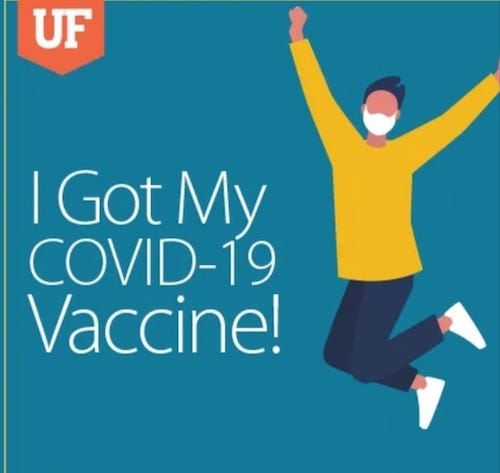 Sylvia offered her services this month to a citizens' initiative to help Ukraine. That way, she might be able to make the little Russian she speaks useful. A few days later, initiator Popke contacted her, asking if she could join the bus to Wroclaw in a few days, to pick up about 30 refugees. And so it happened. From then on, life in Haulerwijk has been firmly dedicated to the Ukrainians.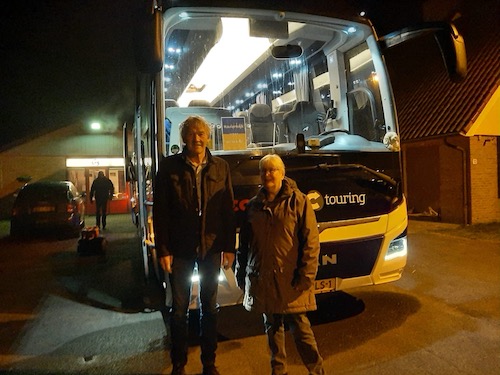 April
In early April, our next-door neighbour reported testing positive for Covid. And yes, so did we. So Sylvia's booster had to be postponed for another three months. Thanks to our 5 and 4 vaccinations respectively, the course of illness was limited to two days of uncomfortable swallowing.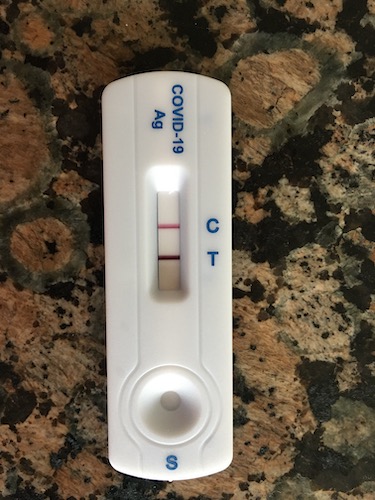 Sylvia supported periodic coffee mornings with Ukrainians and enrolling children in primary and secondary schools.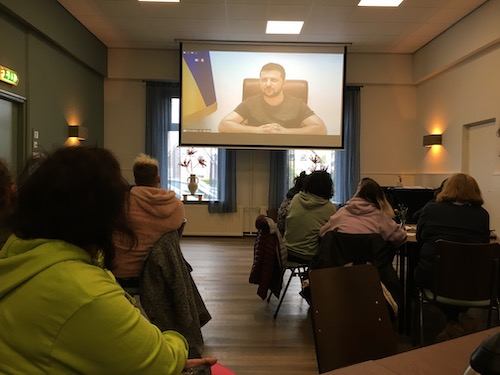 Since then, we have been teaching Dutch here at home to two Ukrainian ladies, Oksana and Nataliia. After Oksana went back home, Nataliia was our only student.
Neighbour Anita organised a flea market in the village garden. Sylvia helped with preparations and on the day itself with the book sale.  
May
Markus and Ko, on their way to Leeuwarden, drove to Haulerwijk for lunch.
Due to an overcrowded schedule, we didn't go to Bodenheim this year but we kept ourselves busy with
- the flea market in the Garden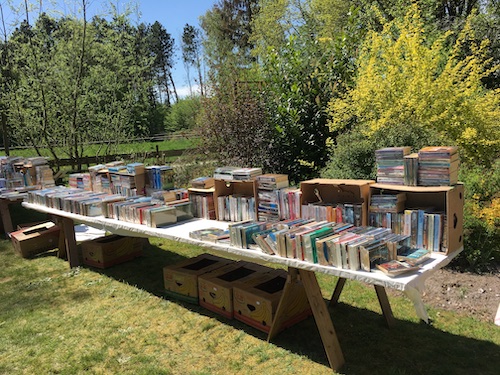 - sister Kineret's 70th birthday, celebrated on a regional camp site.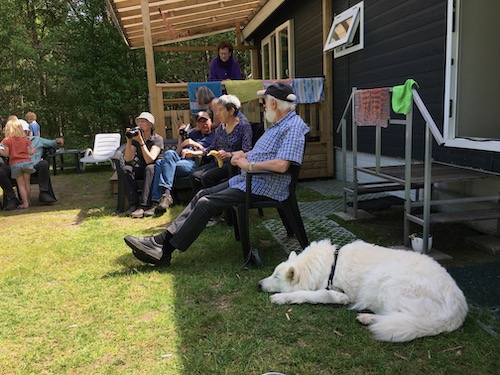 - the F-Exam in Leeuwarden 
- selling the Triumph Bonneville America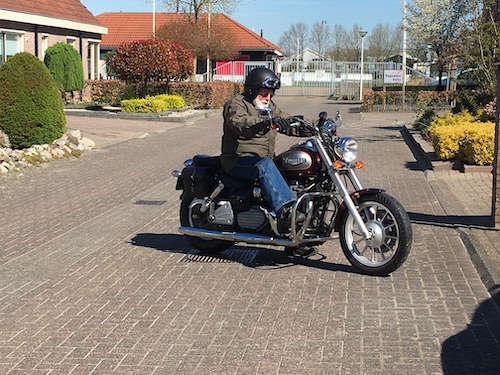 - visiting the VERON radio market in Beetsterzwaag, from where we came home with a huge bundle of aluminium antenna masts.
For the F (full licence) exam, I passed with two mistakes. With 15 one still passes!
June
Together we built a 23 m long broadband endfed antenna.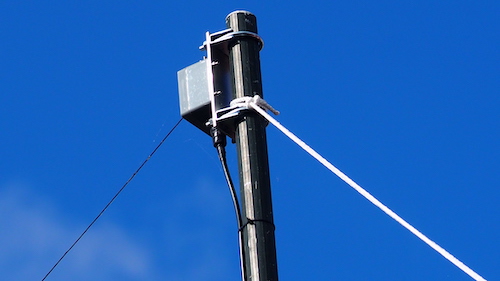 The VRZA, Drenthe branch, organised a very fascinating excursion to the radio telescope in Dwingeloo. EME (Earth-Moon-Earth) seems to go very easily (at least if you have a 25 m dish set up).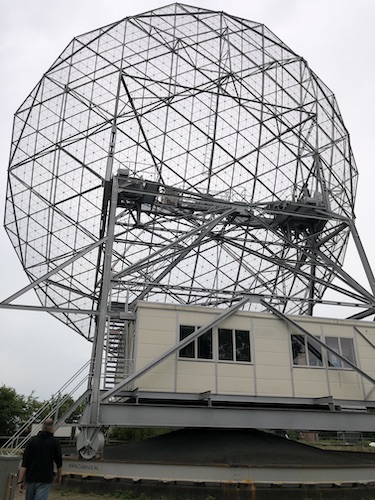 Stevie invited us to help celebrating his birthday in Maring-Noviand on the Moselle with a big Grillparty and Weinbergfahrt.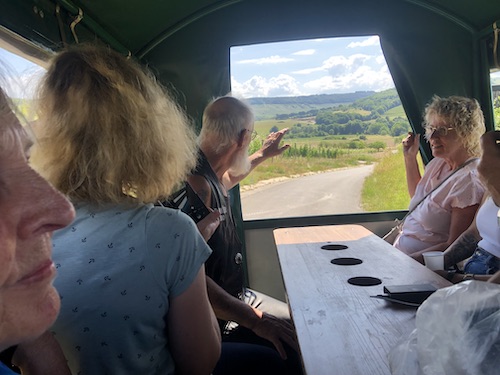 We tied a motorhome trip to it, through Germany, Luxembourg, France, Belgium and the Netherlands. See seperate page. 
Due to Motek's worrisome health, we have been visiting the vets in Oosterwolde regularly this month.
July
Motek is no longer with us. His liver failure didn't respond any more to medication and liver diet. He slept for longer and longer periods and, when standing or walking, struggled not to fall over. Eventually, he also stopped eating and drinking. How we are going to miss him!
For the period July - September 2022 we made a seperate web page.
Here we list only some things we didn't mention in the Summer page.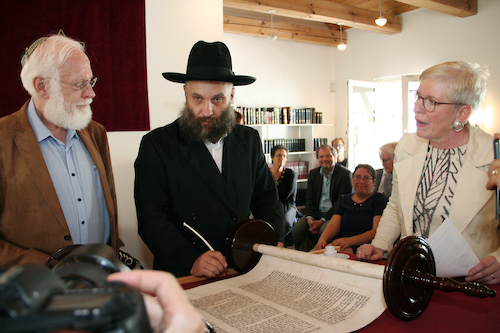 I was one of the (former) members who got the honour to
be called to the Tora when the last few letters were written. 
As I decided I would no longer ride my motorbike, the bike has been sold and collected by someone who will convert it into a trike.
August
Elisabeth and Rolf from Bremen, who were on holiday in Emden, took a day trip to Haulerwijk.
September
Twenty years ago, we were visiting Irene in central France from Flanders. Now that both she and we live in Friesland, it was high time she came to visit us.
Instead of getting new glasses, the optician advised Ernst to consult an ophthalmologist first.
On NPO Radio 5 Ernst told presenter Felix Meurders which concert he still remembers best. That is Ray Charles' performance at the Scheveningen Kurhaus in 1964.
The neighbourhood association organised a barbecue on the skeeler field. In a very thoughtful way, the board made sure there was enough to grill for us, but without terafa! Thank you!
On Sylvia's birthday, a long-cherished wish came true: a visit to the Jopie Huisman Museum in Workum. Very special!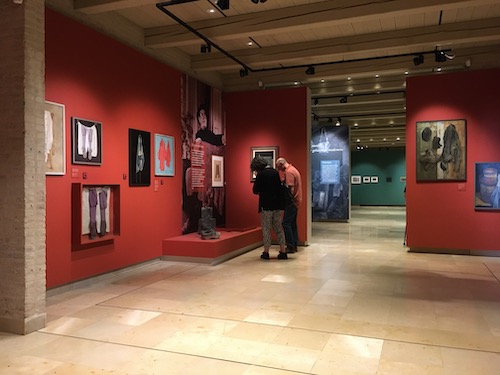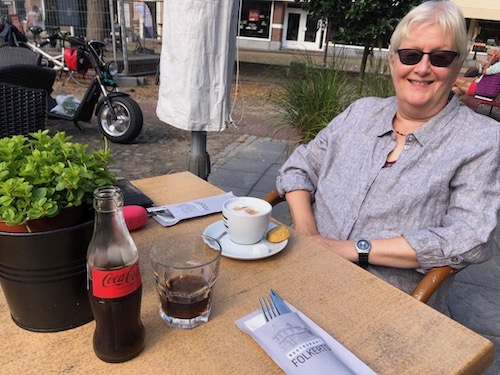 The van got new (all seasons) shoes.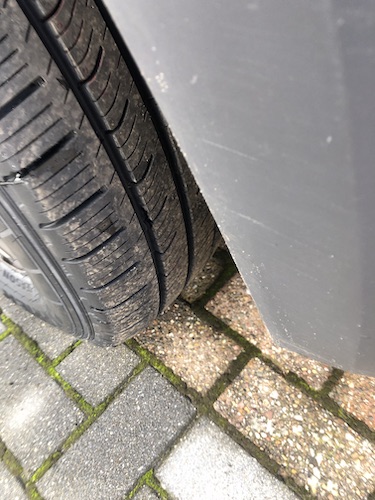 Rosh Hashanah we were in shul at our kehilla in The Hague. We spent the night at Camperpark Den Haag, on the side of Ypenburg and Nootdorp. The connection by tram to shul is doable, at least, as long as it's dry. This year it wasn't!
On the way back, we visited Riitta in Rotterdam, Johan, Manuela and Jonathan in Kapellen and Françoise, Patrick and Arno in Schoten, Belgium.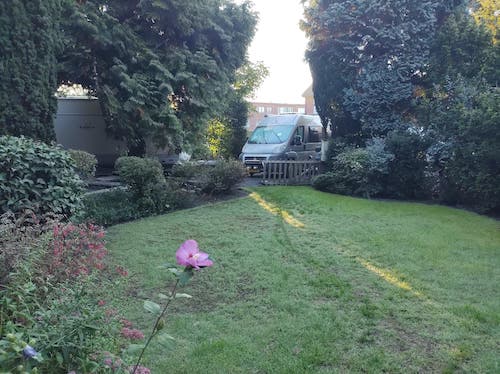 Since we have sold the motorbike and have no plans to buy one again, we sold the bike trailer as well. Lest the garage get too empty, we bought a used plastic pond. Digging it in will be a project for 2023.
October
Yom Kippur we were back in The Hague. As the van had no power steering for a while (broken multi-belt), we spent the night at the Bastion Hotel in Rijswijk.
From Oosterwolde, a bus tour was organised for new residents of the municipality of Ooststellingwerf. Very interesting!
At audiologist Veenma, I started a journey towards new hearing aids. It turns out that technical developments have not stood still for the past six years. By December, I was completely satisfied. 
Sylvia took part in an excursion by Today's Women to the Orchideeënhoeve (Orchid Farm) in Luttelgeest.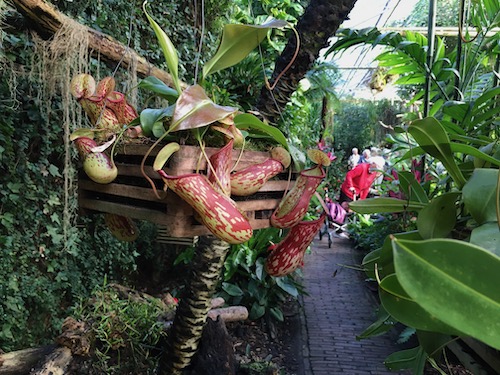 The Cold War (60 years after the Bay of Pigs events) was being commemorated across the country. We visited four sites in the northern Netherlands to which radio amateurs contributed.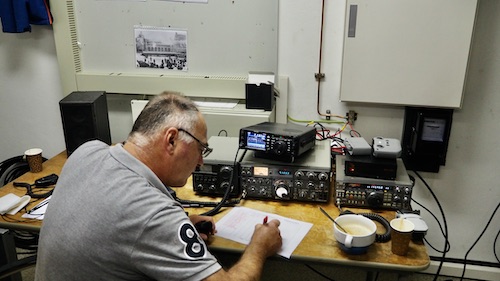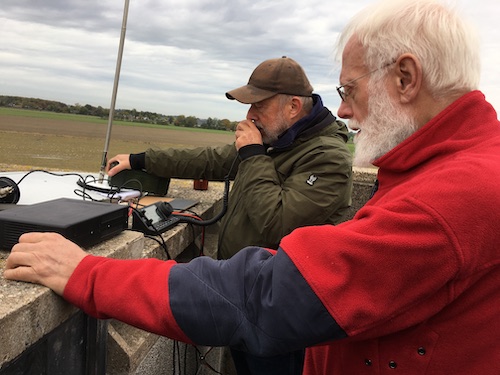 At the end of October Judith threw a family party in the village of Austerlitz to celebrate her registration as a psychiatrist.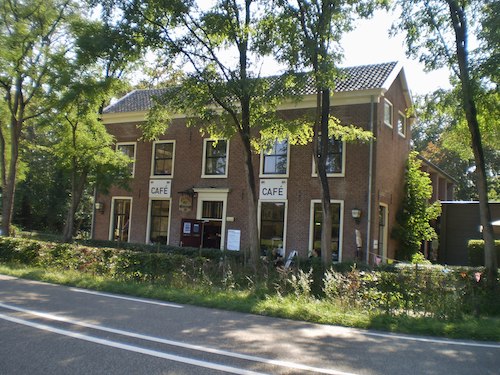 November:
Finally, I was able to see an ophthalmologist in Grou. I am on the list for cataract surgery in 2023. 
On 10 November, I attend the Erinnerungsgang in Oldenburg, commemorating the march the arrested had to make from the police station to the House of Detention after Kristallnacht. 
The reunion with board and members of my former kehilla was heartwarming.
To mark the birthdays of Ernst and granddaughter Yetta (75 and 5), we (i.e. Sylvia) organised a family party at the restaurant at the former island of Schokland, a UNESCO World Heritage Site. The party also included a few school friends from 55 to 60 years ago.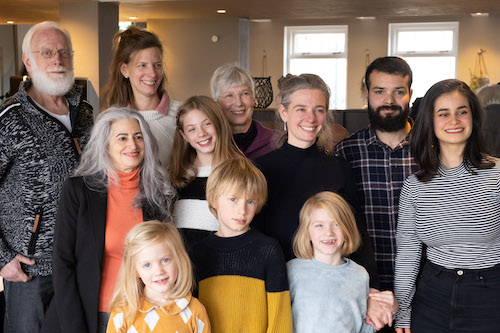 All are called "Sittig"        Photo: Paul Stawski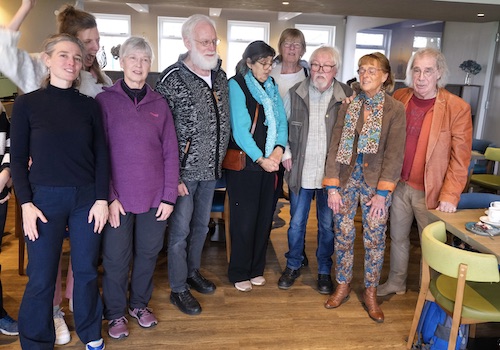 Various generations of Haganum students.     Photo: Paul Stawski
Via the Internet, we participated in Limmud Europe, this year focusing on the Rhine region in Germany. 
December
The last meeting of Today's Women, Haulerwijk branch, takes place. Due to insufficient management capacity, the branch is disbanded.
At the "Christmas Party" of the VRZA Drenthe branch, we decided to strengthen the mutual bond between members by holding a weekly round on 70 cm, Bartje's BorrelRonde (BBR).
I put into use a new Mac ("Studio"), which should be future-proof for another eight years or so. The previous iMac has been moved upstairs to be employed in the radio shack.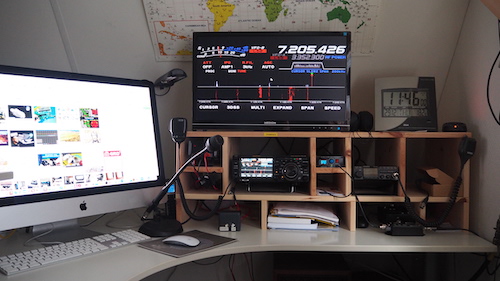 At about the same time, Delta delivered the fibre connection. Getting it to work only took half an hour, fine-tuning another two days. The step from 40 Mbps to 1 Gbps is significant.
While the Outlander was at the workshop in Assen for a major service, we visited the Drents museum. The Pompeï exhibition was particularly fascinating.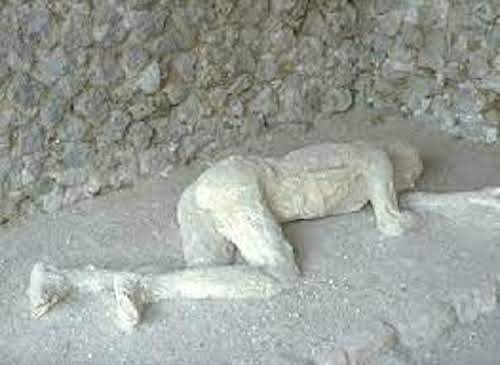 The first seven times we lit the Hanukkah candles at home.  
Lighting the last candle we left to chief rabbi Jacobs, on the village square of the Fortress Bourtange.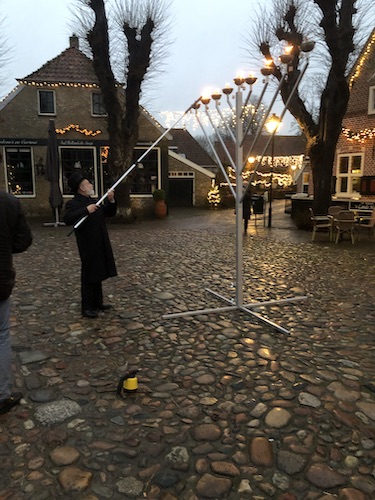 Herewith we conclude this annual report. We wish our readers a good, healthy and peaceful 2023.