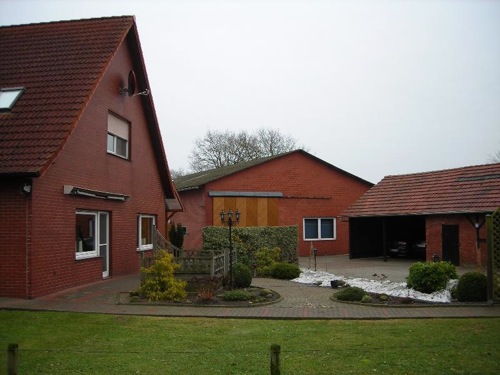 Na 10 jaar Vlaanderen vonden we het tijd voor een nieuwe uitdaging. Dit is het geworden: een ruim woonhuis met een grote hal in Sage-Haast (gemeente Großenkneten) in Niedersachsen.

We came to Flanders in 2003. And in 2012/13 we've moved on to… Northern Germany. Our new house has a big hangar where we'll be able to work on our vehicle fleet ;-)

Nach zehn Jahren in Belgien sind wir Ende 2012/Anfang 2013 umgezogen nach Großenkneten (Kreis Oldenburg). Auf dem Bild ist die Tür der großen Halle sichtbar, wo unser Schulbus trocken stehen kann.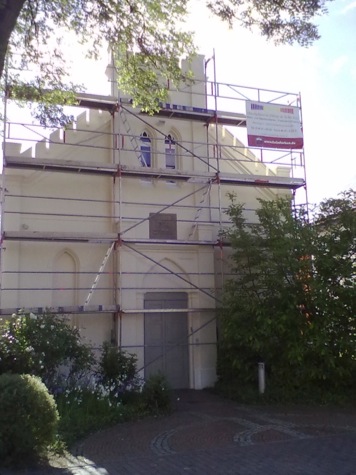 De sjoel in het nabijgelegen Oldenburg.

We'll be quite close to the Synagogue of Oldenburg.

Synagoge zu Oldenburg, nicht weit von Großenkneten.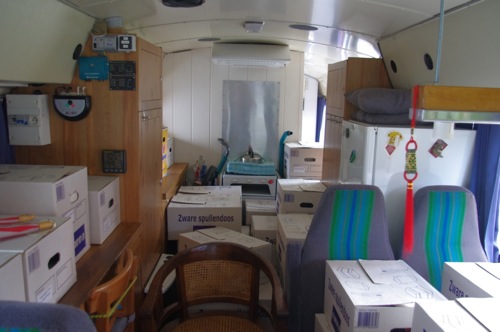 De eerste dag van onze campervakantie hebben we benut om een eerste lading verhuisdozen weg te brengen.

We used the beginning of our motorhome trip to deliver a first load of books to our new address.

Ein Wohnmobil voll mit Umzugskartonen beim Anfang des Urlaubs.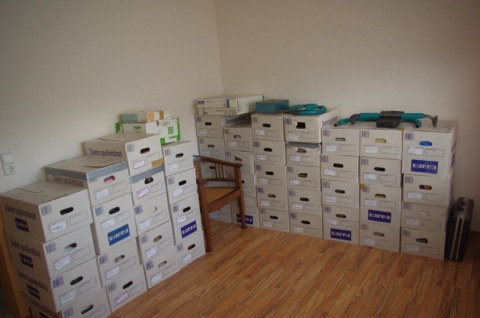 Stomtoevallig net de heetste dag van het jaar uitgezocht. Maar aan het eind van de middag stonden er 81 dozen op de (lege) eerste verdieping.

Although it was too hot to work, we carried 81 boxes up to the first floor.

81 Boxen auf der oberen Etage!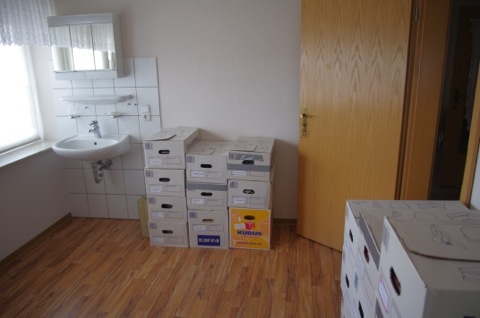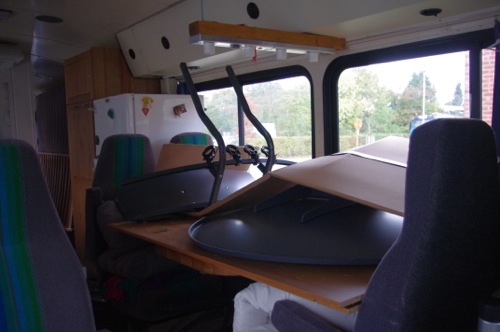 Voor de tweede rit - waarbij we de bus meteen in de hal zullen stallen - vandaag begonnen met laden. Als eerste onze nieuwe Wavefrontier satellietschotel in twee delen ingeladen.

After the next trip we'll park Skoolie in its new housing. Driving there empty would be a terrible waste. The first thing we loaded is our new toroidal satellite dish.

Nächste Reise mit dem Schulbus. Natürlich schwer beladen.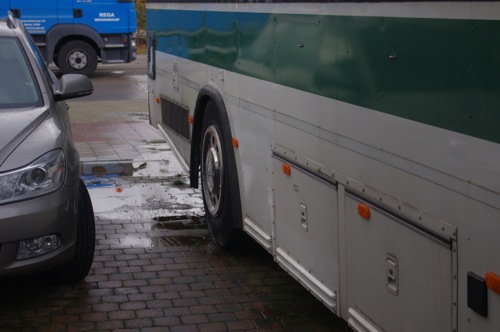 Jammer van al dat schone drinkwater, maar een kapotgevroren pomp of boiler kost meer.

Because Skoolie will be parked in Germany for part of the coming winter, we had to drain the water tanks. It is raining, so no-one notices.

Wir müssen zuerst die Tanks entleeren, so dass im Winter nichts gefriert.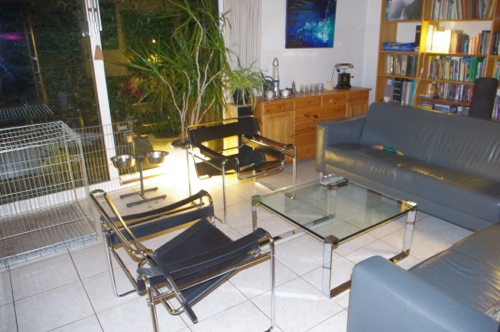 Vooruitlopend op een groot, leeg huis hebben we vandaag twee stoelen (Marcel Breuer's Wassily) en een glazen tafel aangeschaft bij Van de Wetering in Roosendaal. Door Syl gevonden op Marktplaats!

To prevent too many empty rooms in our new house, we started a limited collection of design chairs: two Wassilys, designed by Marcel Breuer in 1925.

Für unser neues Haus hat Sylvia auf dem Web zwei Stühle und einen Tisch gefunden die wir heute gekauft haben. Für uns ganz modern! Obwohl… Entwurf Marcel Breuer 1925!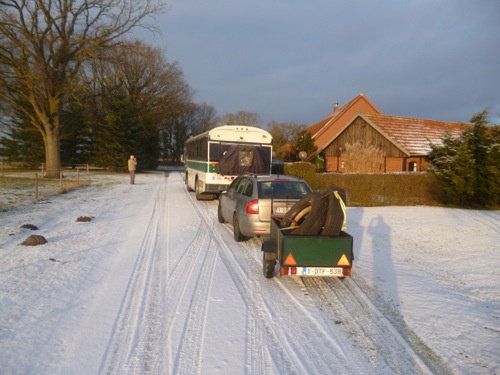 foto: Patrick Wagemakers
Omdat ik maar in één voertuig tegelijk kan sturen, rijdt Patrick met de Škoda met het bakje met twee banden van de bus. Met alleen de Škoda komen we 's avonds weer terug in Vlaanderen.

With help of Patrick we drive two vehicles and one little trailer to Großenkneten. The (loaded) bus and the trailer remain there.

Mit zwei Fahrzeugen nach Großenkneten, mit einem wieder zurück. Unser Freund Pat ist der 2. Fahrer.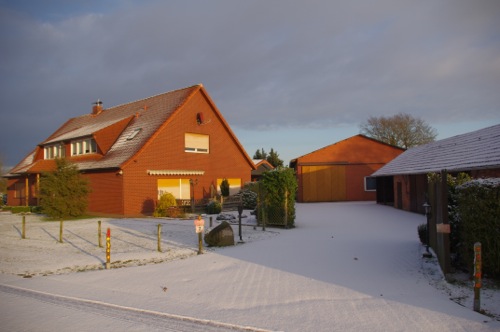 Huis en bijgebouwen in de (dunne laag) sneeuw.

As long as it is not touched, the thin layer of snow is beautiful.

Der unberührte Schnee macht daß alles aussieht wie eine Weihnachtskarte.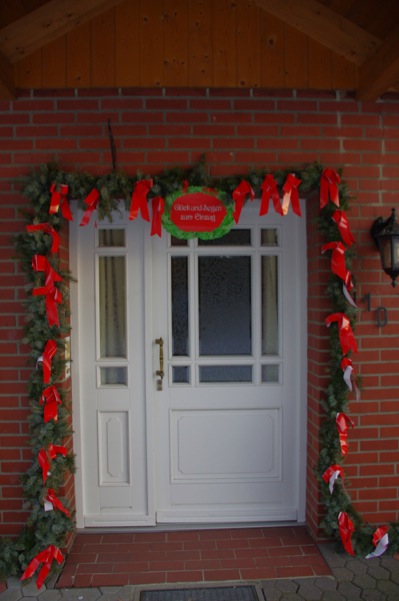 De buren blijken welkomstversiering rond de voordeur te hebben aangebracht. Waar vind je nog zo'n warme gastvrijheid?

Unprecedented hospitality! The neighbours have put up a welcome arch.

Glück und Segen zum Einzug. Beispiellose Gastfreundschaft der Nachbarn.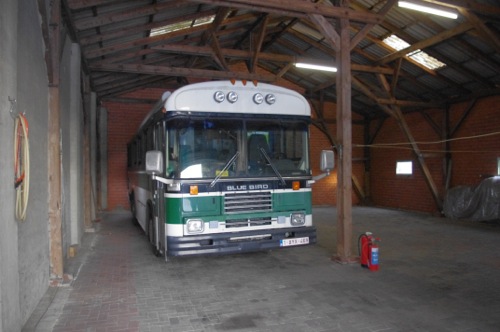 Skoolie staat voorlopig droog. Het aanhangertje ook

For the time being Skoolie and the trailer have a nice, dry place

Regen, Schnee oder Hagel. Skoolie steht hier trocken. Der Hänger auch.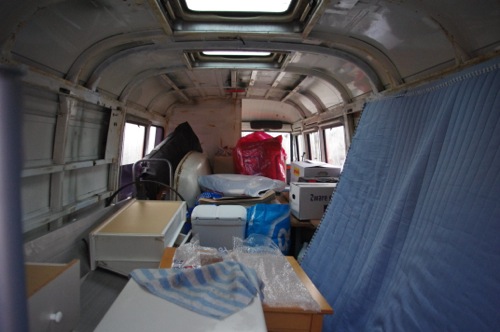 De volgende rit voeren we uit met de Oranje bus. Hier zijn we bezig 'm in te laden.

The next trip we make with the Orange Van.

Hier laden wir die orange Bus für die nächste Fahrt, der erste wirkliche Umzugstransport.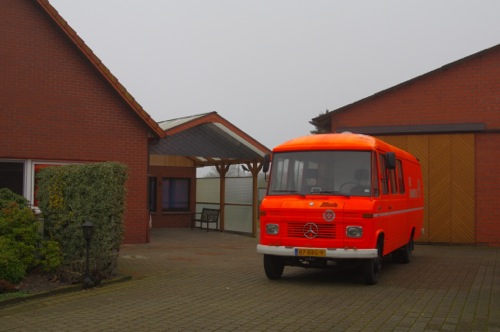 Deel van de lading gelost in de loods, deel in het huis.

Here we just finished unloading the Orange Van.

Teil der Ladung entladen in der Halle, Teil im Hause.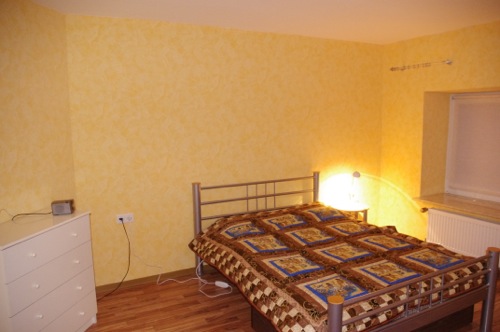 In een van de logeerkamers bòven hebben we een vrij Spartaanse slaapkamer ingericht. De fleurige quilt heeft Sylvia d'r Russische vriendin Nancy zelf gemaakt.

To have a place to sleep in a real bed, we use one of the future guest rooms upstairs. The beautiful hand-made quilt is a present from Nancy in Moscow.

In einem der Zimmer oben machen wir eine ziemlich spartanische Schlafzimmereinrichtung. Die schöne handgefertigte Steppdecke ist ein Geschenk von Nancy in Moskau.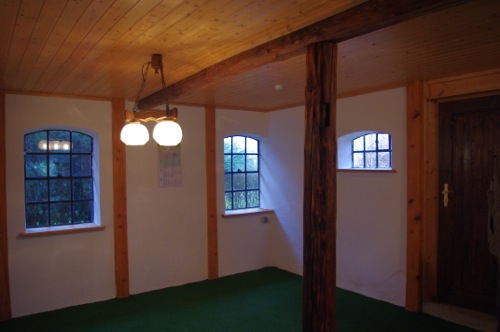 Klein zijsprongetje: in het bijgebouw bevindt zich ook nog een "Partyraum" met bijbehorend keukentje. Altijd goed voor een feestje!

The new house also has a "party room" with a small kitchen.

Anscheinend lieben die Deutschen ein Party, denn es gibt auch noch ein Partyraum.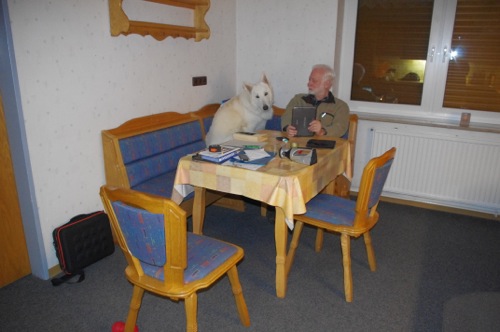 Motek laat even weten dat hij aandacht te kort komt!

Motek is somewhat unsure about the move and needs some attention!

Motek versucht mal wie man auf den Eckbank sitzen kann.



2013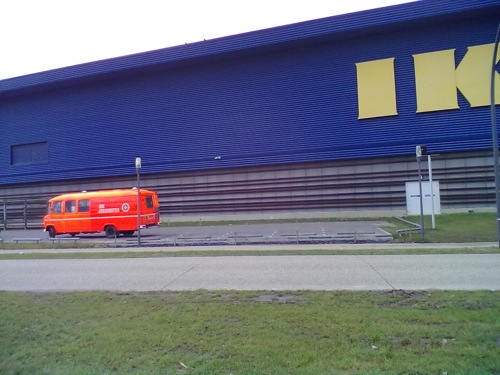 Bij een volgende rit halen we nog een tafelblad op bij een bekend woonwarenhuis, vestiging Hengelo. Kleurrijk geheel, nietwaar?
Every trip to Germany we pass this Ikea near Hengelo. This time we bought an extra table top.

Kombi von Johanniter Orange und Ikea Blau und Gelb ;-)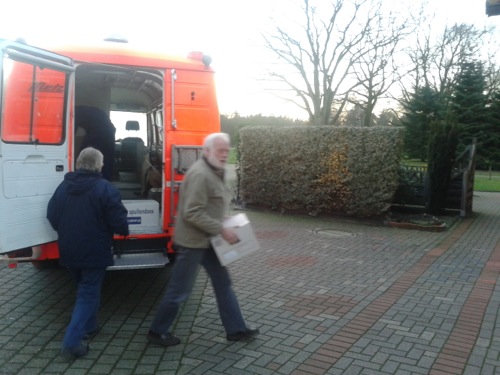 In Großenkneten lossen we een halve bus verhuisdozen…

Unloading boxes and …

Es gibt leichte ...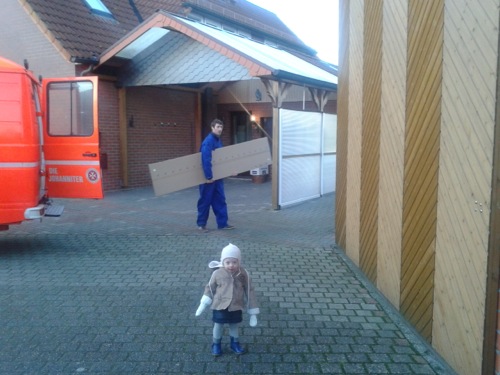 … terwijl Marcel zich ontfermt over de ècht zware zaken.

… heavy stuff! Thanks, Marcel!

… und schwere Sachen!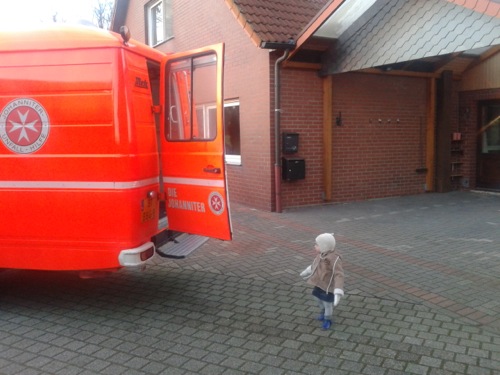 Sara houdt toezicht en Judith heeft de foto's gemaakt.

Granddaughter Sara co-ordinates the work, while Judith takes the pictures.

Enkeltochter Sara überwacht das Ganze. Danke Judith für die Bilder.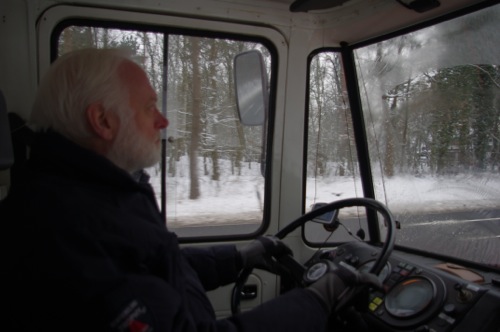 Volgende rit in een stukken lagere temperatuur. Jas aan en kraag op, want de verwarming van het busje is berekend op een afgesloten cabine en niet op 7 m open bus.

This trip we made in real winter. The van heater couldn't cope with the low temperature. Hence coat and gloves.

Nächste Reise im Winter! Die Heizung ist kaum genug für das ganze Fahrzeug, darum tragen wir Jacke und Handschuhe.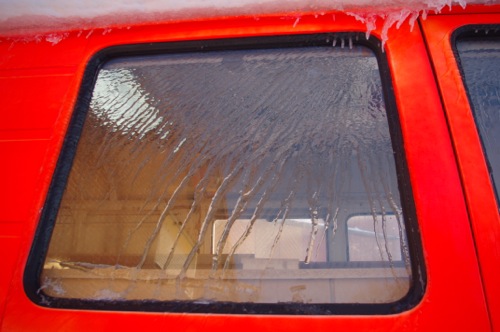 Laagste temperatuur deze trip -12 ℃!

The low 10 °F is good for nice ice patterns.

Bei -12 ℃ zeigt das Eis auf den Fenstern schöne Formen.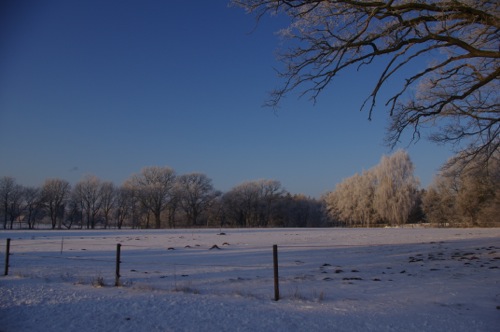 Reeën, hazen en fazanten scharrelen om het huis op zoek naar voedsel.

Roes, hares and pheasants are scurrying around the house, looking for something to eat.

Rehe, Hasen und Fasane huschen um das Haus.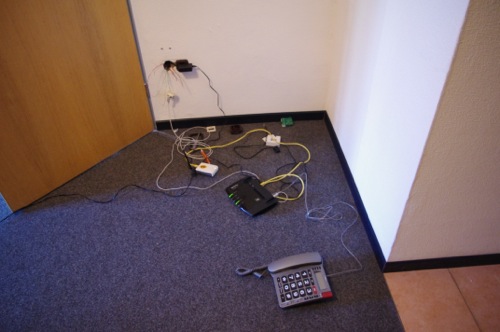 Vandaag is de ADSL in de centrale aangesloten. Het was even puzzelen welke aders ze gebruikt hebben, maar uiteindelijk zijn we weer met de buitenwereld verbonden.

As of today we are connected to the digital highway again. It is more a digital mud trail; the speed is agonizingly slow. Rural, overhead lines! It was a little puzzle to find the right wires.

Endlich haben wir wieder eine DSL-Verbindung. Leider viel langsamer als wir gewöhnt waren. Echt ländlich…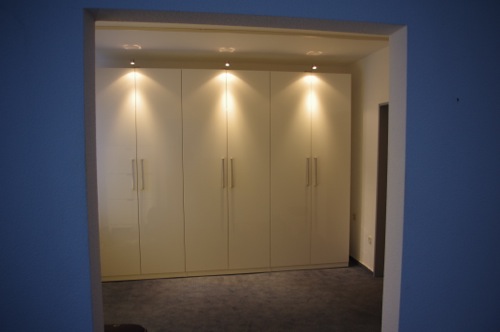 In de dressing room bij onze slaapkamer een kastenwand gebouwd uit Zweedse onderdelen.

New wardrobes in the dressing room.

Im Ankleideraum haben wir neue Kleiderschränke gebaut.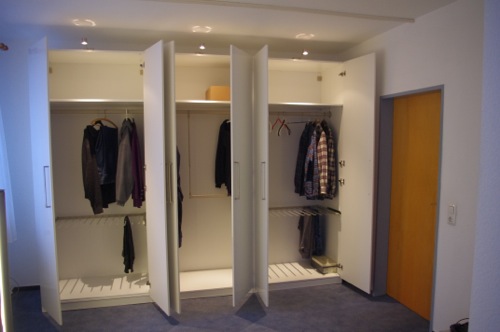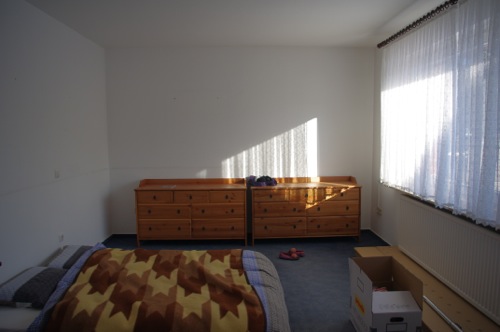 We slapen nog op de grond (volgende rit mag ons bed mee).

Our provisional bed.

Unser Bett bringen wir die nächste Fahrt.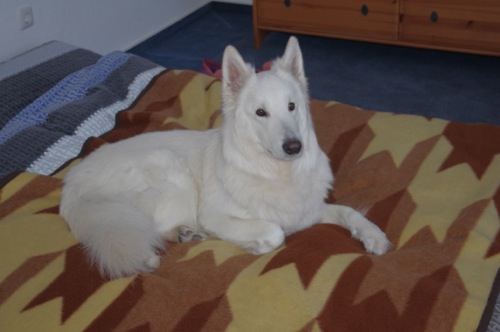 Motek ziet ons bed als grote hondenmand (zolang wij er niet in liggen)

Motek thinks our "bed" is his (as long as we aren't there).

Unser Bett wird von einem weißen Schäferhund bewacht.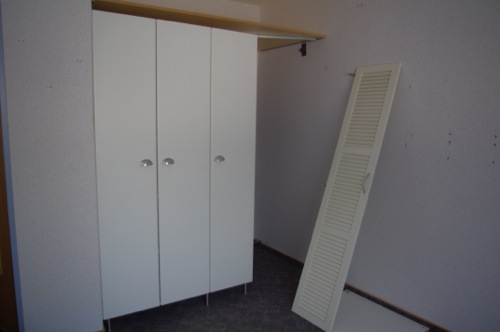 In een nis in onze toekomstige knutselkamer de kasten, die in Beerse op de gang stonden, weer geassembleerd en een plekje gegeven…

Taken apart in Belgium and re-assembled in Germany.

Stauraum gibt es nie genug.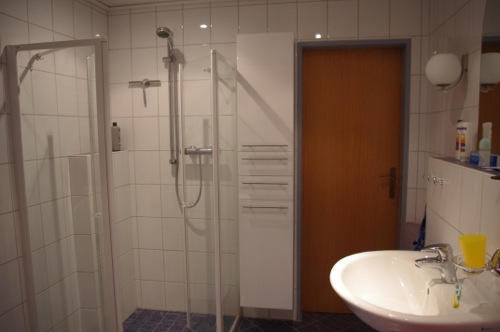 … en in de badkamer beneden een kolomkast opgehangen.

New bathroom cabinet against the wall. Drilling was quite a job.

Toilettenschrank schwebend gegen die Wand.

Go to top of page