Year 2020
The year 2020 was marked for most of the world's population by the Corona pandemic. For us an extra challenge was moving house from Germany to the Netherlands - while remaining healthy. In practise this meant commuting between two houses and hardly meeting any fellow human being...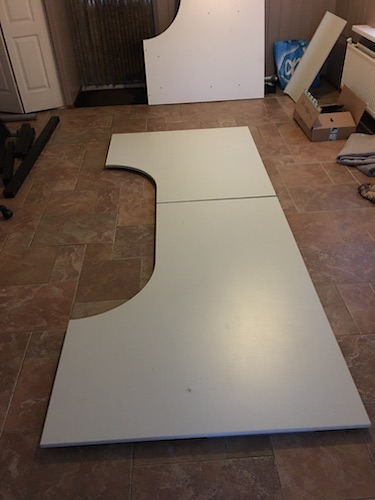 In January we started constructing desks in our new house, because office work is an important part of our activities.
We sent out requests for quotation for heat pumps, solar panels and solar collectors for our new house.
In Germany, Ernst still is 2nd chair of the Jewish community of Oldendenburg (and the Jewish chairperson of the Association for Christian-Jewish Co-operation as well as member of the Workgroup Religions of the Oldenburg Municipality.)
In Sage-Haast we get many potential buyers for the house, so we have to keep the house and grounds clean and tidy.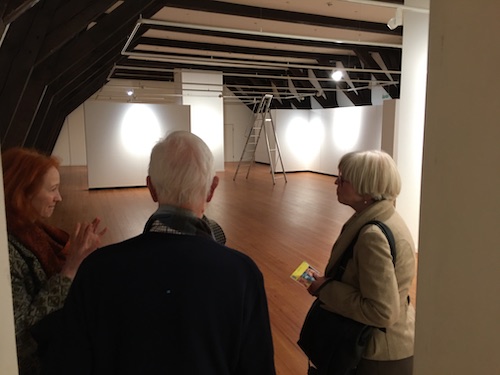 In Oldenburg we (1st and 2nd chair) look for a venue for an exhibition within the frame of the project
321, 1700 Years of Judaism in Germany
. We select the
Landesmuseum
. The amount of co-operation by the authorities is overwhelming.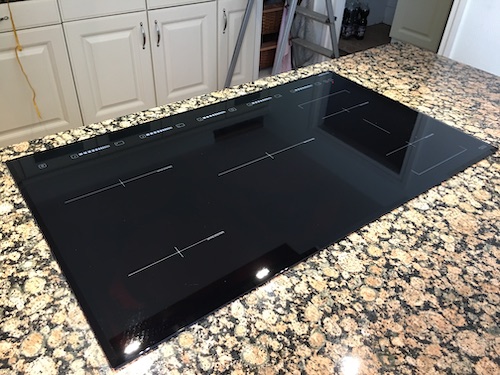 In Friesland we install an induction cooker, which fits in our plans for an all-electric house without natural gas.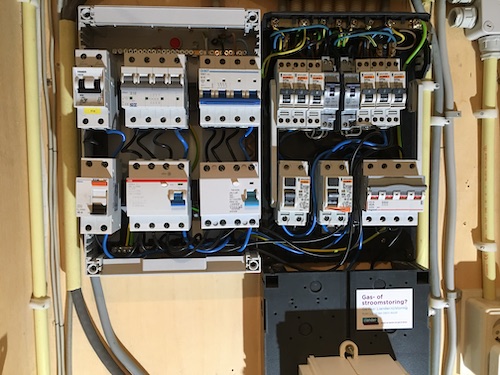 A new fuse box with extra groups for cooker, solar panels and heat pump, makes a nice DIY project for Ernst.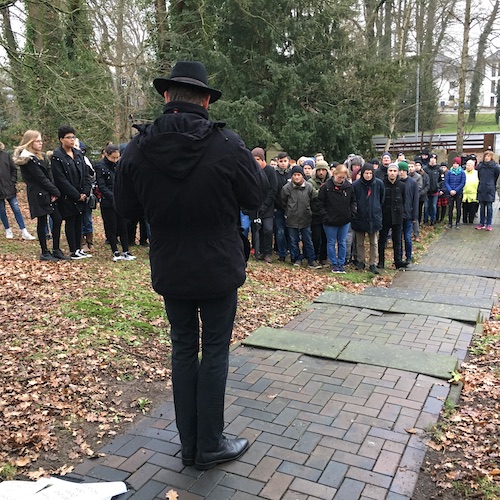 On January 27th, like previous years, the annual Holocaust Remembrance is held in Wildeshausen. Two board members and a cantor are present on behalf of the Jewish community of Oldenburg.
In February the new fuse box is inspected and approved by the power company. A new (3 phase) meter is installed. The small camper van passes its annual safety test. 
Every week we drive from Großenkneten to Haulerwijk and back. There is a lot of paper work to be done.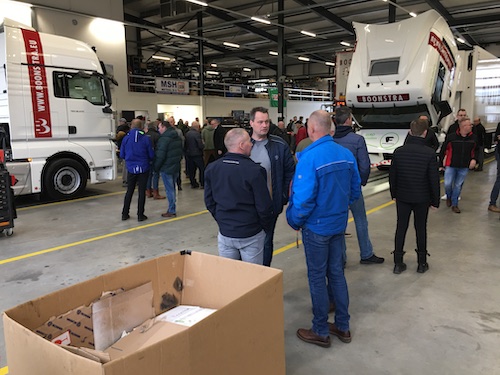 Boomstra, the biggest trucking company of the village of Haulerwijk, have their Open Day.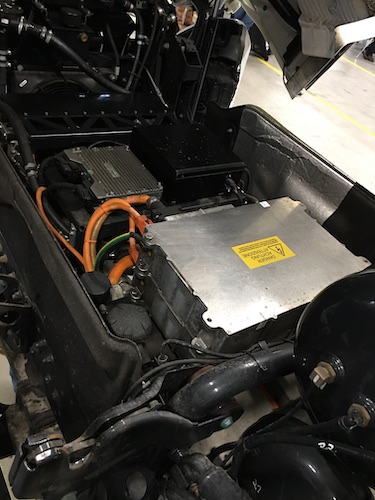 Interesting is this fully electric tractor, which is used in regional transport.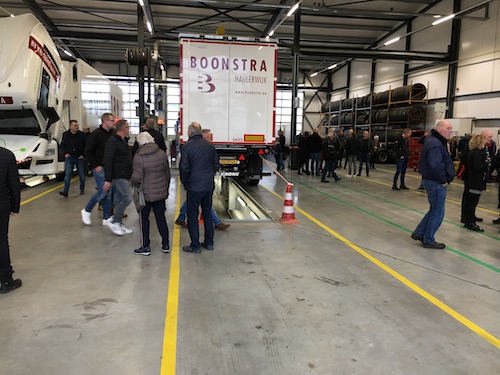 A cabinet that we don't see fitting in Haulerwijk, is picked up by new Dutch neighbours.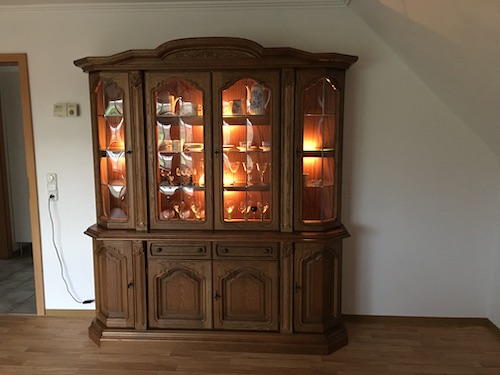 In March: Purim is celebrated in shul (the last meeting before the Corona lockdown). The real estate agent brings along more viewers.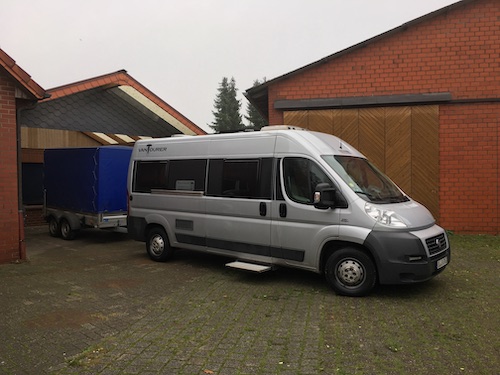 Fortunately we have equipped all our vehicles with a trailer hitch. So whichever car we take, there always is a loaded trailer hooked up (on our way west).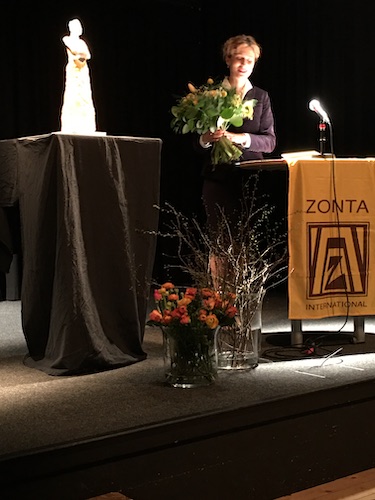 On March 13th, our rabbi Alina Treiger receives the decorations belonging to her election to
Zonta woman of the year
. 
Youtube
. 
When loading the trailer, Ernst trips over (most likely under the influence of the medication against his neuralgia) and breaks his right shoulder.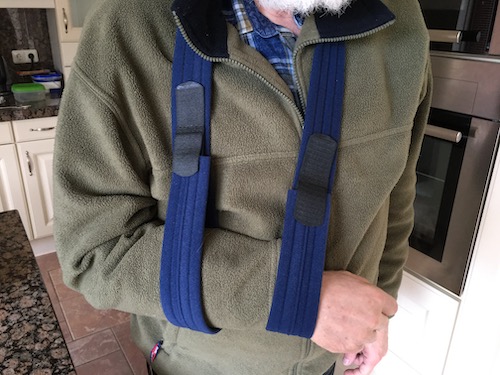 The Haulerwijk general practitioner sends him to the regional hospital in Drachten. On the X-ray a fracture is clearly visible. However, all bone fragments are in place, so a sling and some rest should do the job. After a week a check by an Oldenburg orthopedist.
The Oldenburg orthopedist decides all is in order, an X-ray is not necessary. Come back in three weeks.
A storm causes some damage to a fence and some trees on our lands.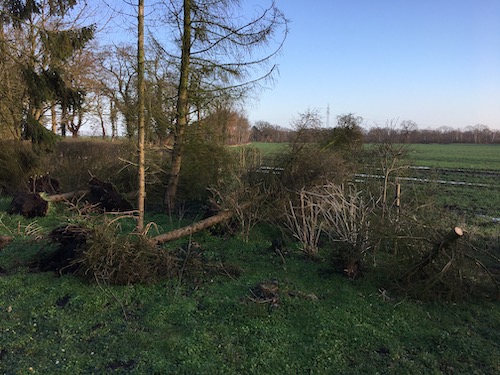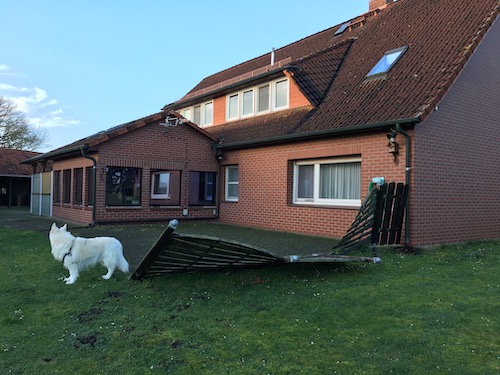 In Haulerwijk a landscaper will make some adaptations to our garden.

In Großenkneten our house is sold. Transfer date: December 31st. We have a deadline!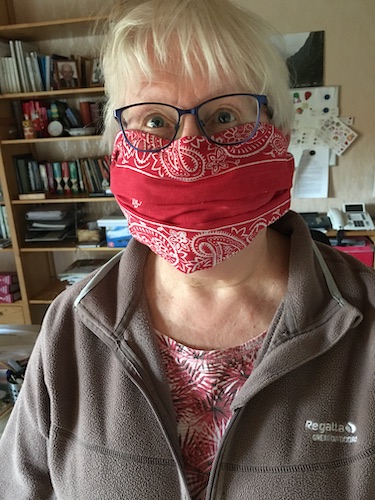 In most countries a mask becomes mandatory in public space. Because there are no ready-made masks available at the start, there is a large-scale experimentation with DIY solutions.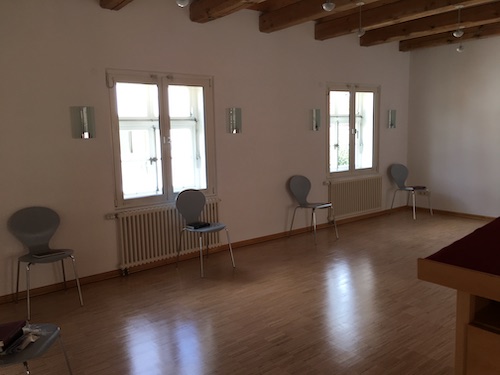 The synagogue is redesigned to accommodate the 5' space between people. 
Passover has to be celebrated at home.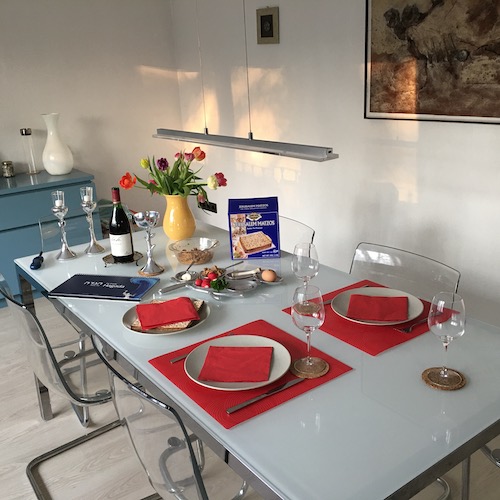 Ernst's orthopedist now concludes the shoulder is no longer well at all. Surgery is necessary and is scheduled for April 30.

Will there be fibre optic in Haulerwijk?

Shul services are held via Zoom.

The annual Bergen-Belsen memorial service is cancelled.

The celebration of the 25th anniversary of the Oldenburg University Institute of Jewish Studies is postponed.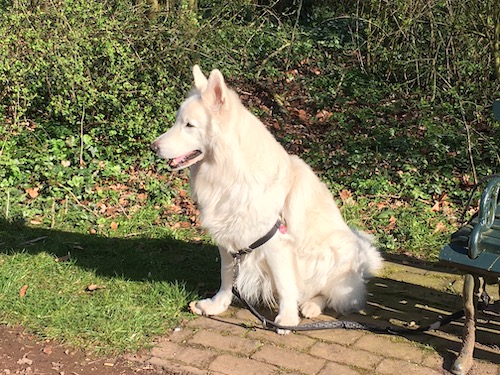 While Ernst is examined by the orthopedist, Sylvia and Motek wait for his return in a park in Spring atmosphere.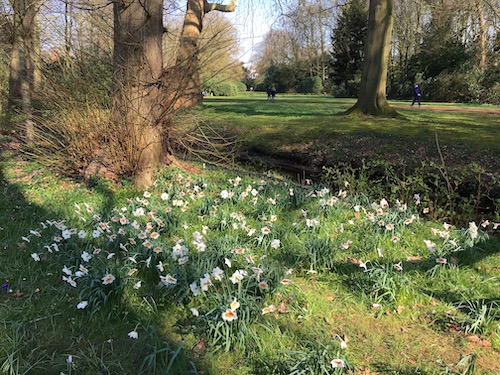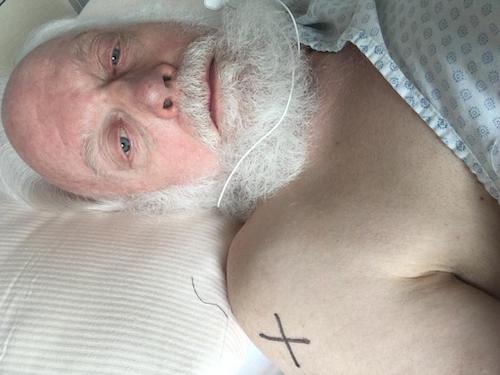 Ernst, ready for his shoulder surgery. To exclude any possible mistake, the shoulder to be operated on is clearly marked.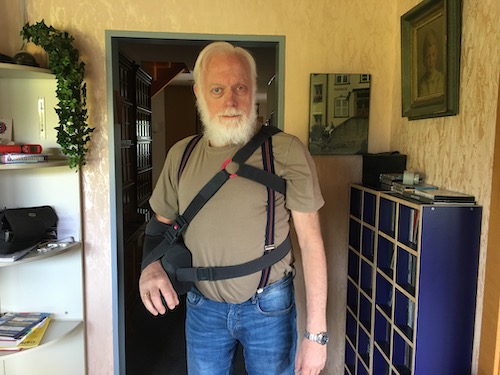 The arm must remain fixed in this box, AKA side table, for the first six weeks after surgery.
The deed of sale of the house is signed at the notary on May 5. 
Following the German custom, the upstairs kitchen is not included in the sale. Selling the kitchen furniture and some household items via Facebook turns out to be quite easy.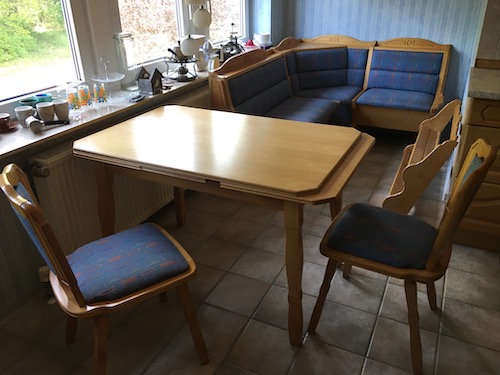 The carpenter repairs some windows and builds in our "American" fridge.
Techniko
starts installing an array of PV panels, a heat pump and three solar heat collectors.
The painters start painting ground floor and the outside.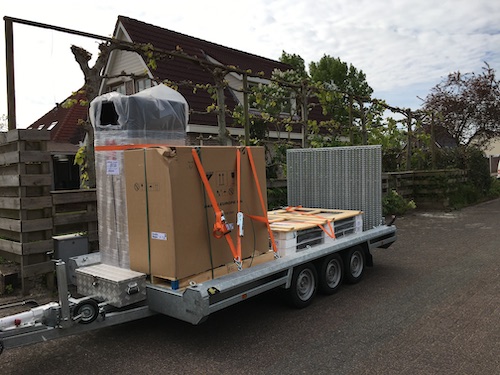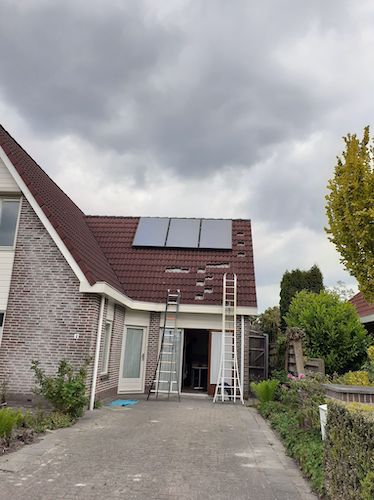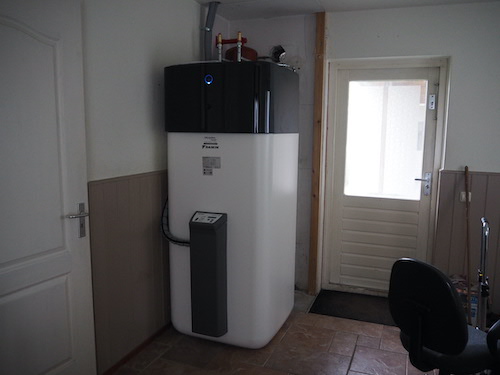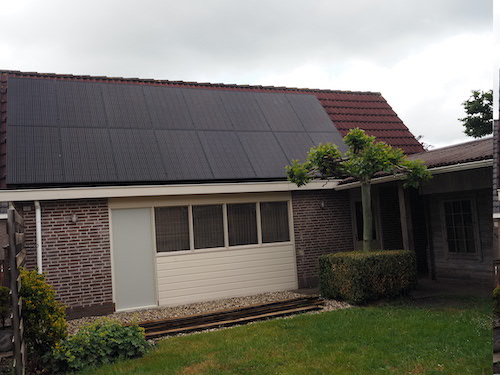 Because Ernst is useless with his slowly healing right arm, our neighbour Jaap is so kind as to mow the lawn for us. 
Herbert and Eileen, our buyers, take care of the garden in Großenkneten.
In June we get our 2nd vaccination with Shingrix.
 
The built-in refrigerator.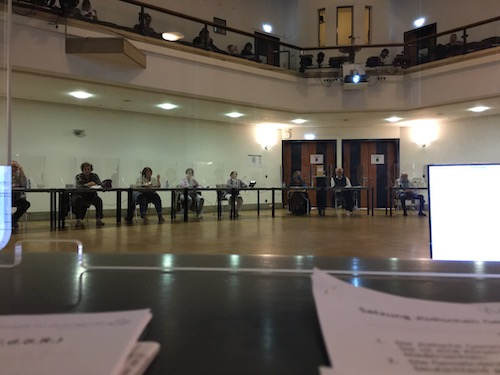 The extraordinary general meeting of the Jewish community, where the change from eV registered association to KdöR public corporation is approved, takes place in Corona setting: everyone in their own cubicle.
 
In July: 3 weeks 
revalidation
in Cloppenburg.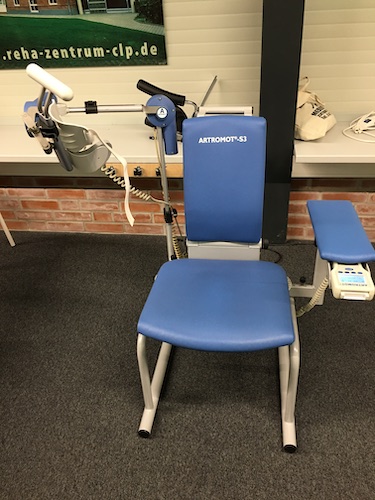 Apart from the many torture devices which can be found in any gym, the Reha clinic also has this special shoulder chair. 
In Großenkneten we have a new hot water cylinder installed (te old one had a leak).
Taking part in a camper meeting in Joure, we can combine with a removal trip.
Herbert stores some of his belongings in our Partyraum and shed.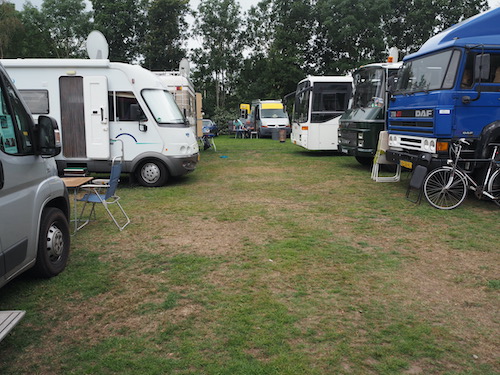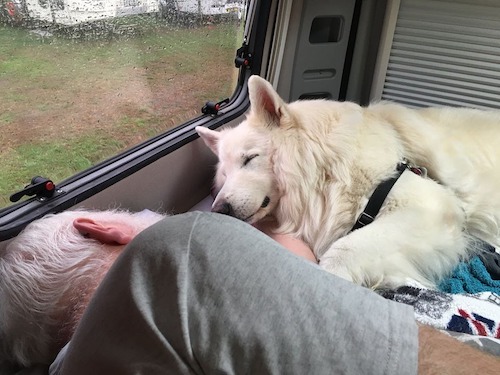 When the weather doesn't invite to outside activities, you might as well take a nap. Motek agrees.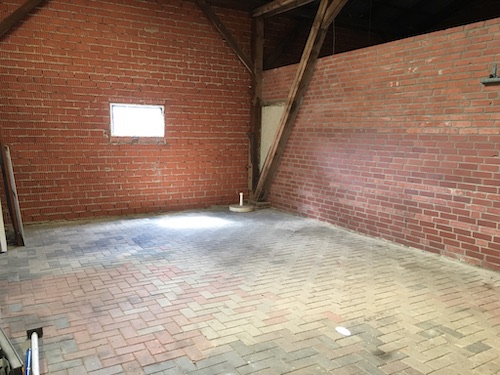 Part of our shed, cleared for Herbert.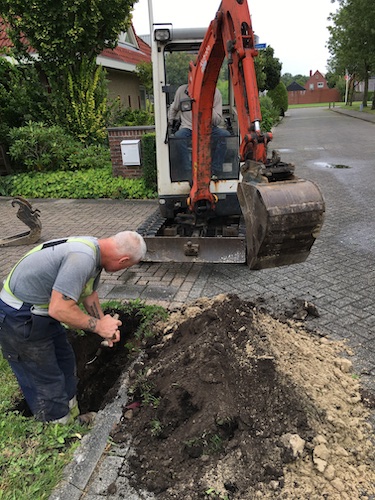 August: gas connection Haulerwijk is removed.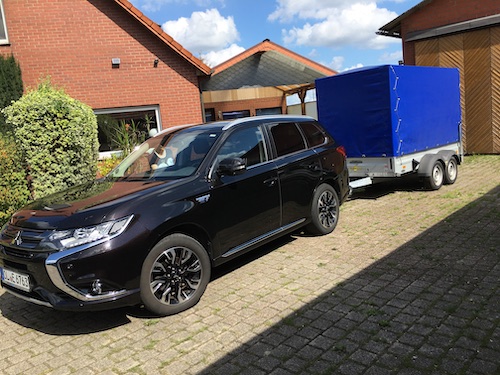 And (approximately) once a week: a return trip Lower Saxony-Frisia.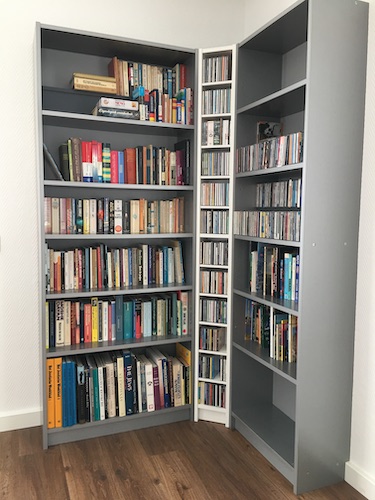 September: after the walls are whitewashed, we start building up book shelves.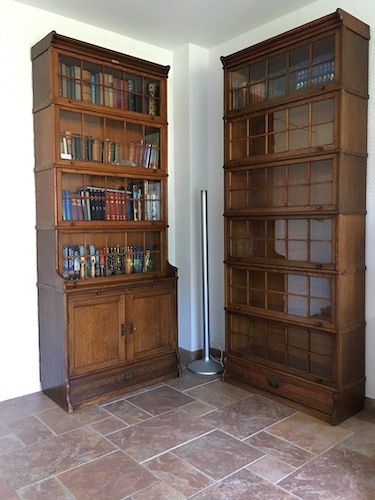 The camper weekend, postponed in May - because of Corona -  takes place in Bodenheim. For us this means a short holiday trip.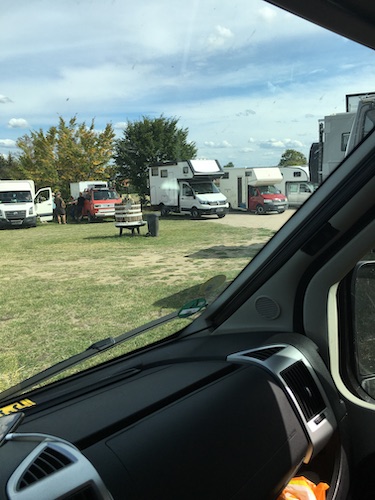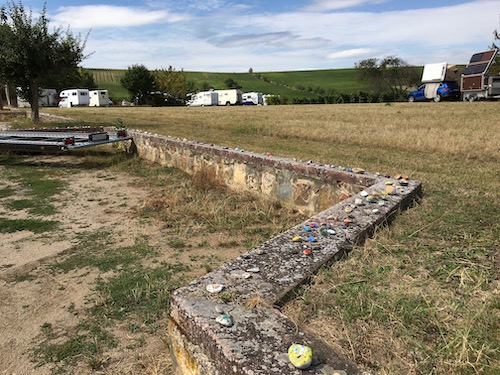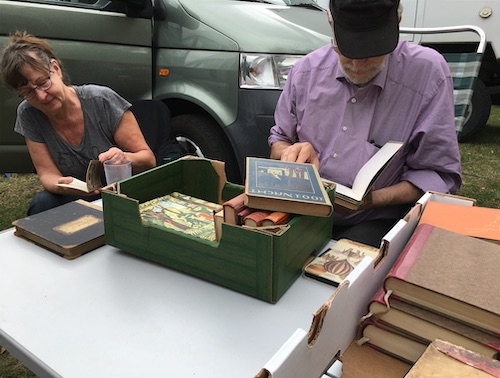 We meet with Walter and Eva and hand over some books which belonged to Alfred and Eva, their relatives, who were murdered in the war.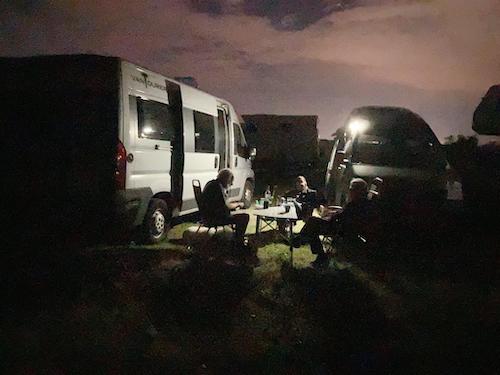 On the way back we visit the beautiful towns of Steinau an der Straße and Bad Wünnenberg.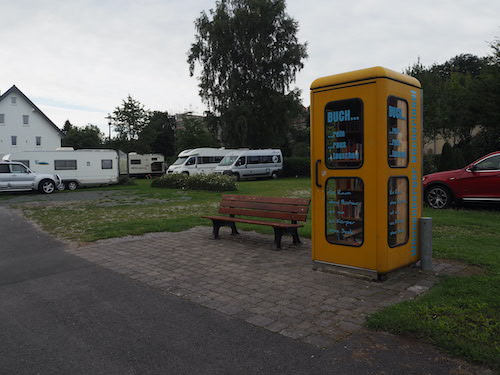 Internet and TV in Haulerwijk are hooked up.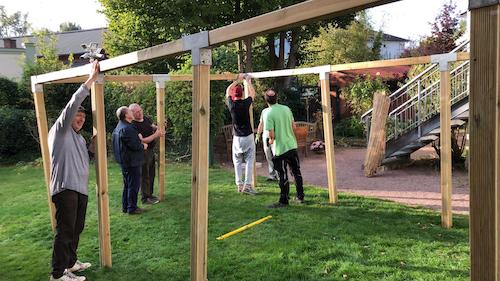 Right after Yom Kippur building the sukkah begins. Sylvia and Ernst have prepared a modular sukkah kit in 2019. Ernst only needs to give directions. Many hands make light work. (You can't do much physical work with one arm anyway.)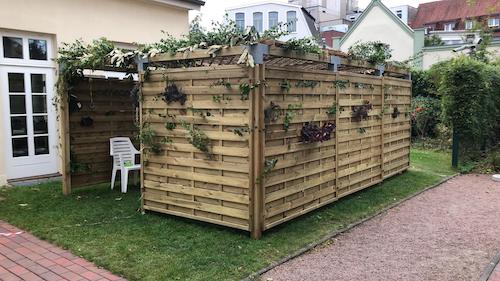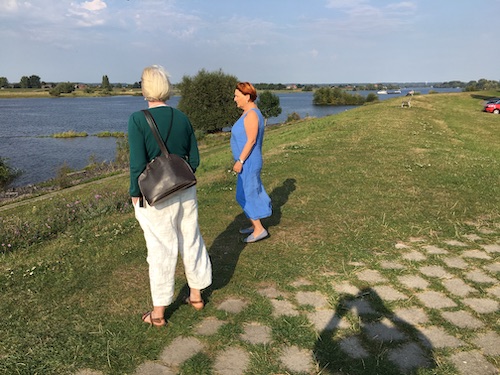 1st and 2nd chair visit film producer Rita Knobel-Ulrich, who has made a TV documentary about our Jewish community, in her beautifully situated house on the river, close to Hamburg, to watch the mixing of the final result. 
Sylvia celebrates her birthday in Haulerwijk.

The Wanderlodge is sold and picked up.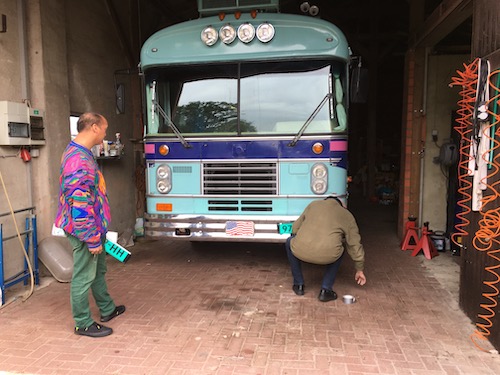 October: our Dutch neighbours get the sauna in the house, if they disassemble it themselves and take it next door. We install our own sauna in the vacant space.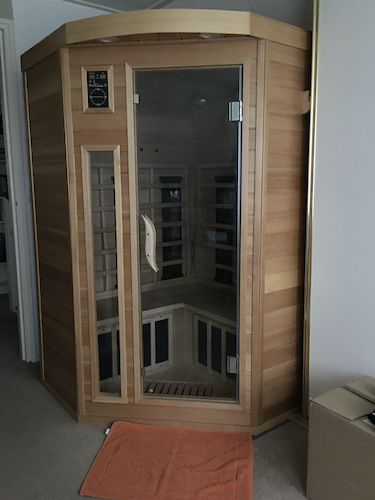 The quarantine measures begin. We are extra careful.
We make several trips to the regional dump.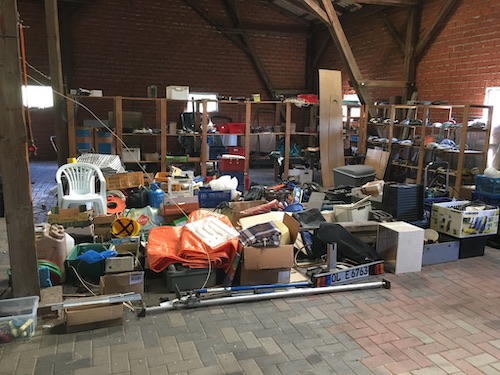 The next trailer load(s) sitting in the shed.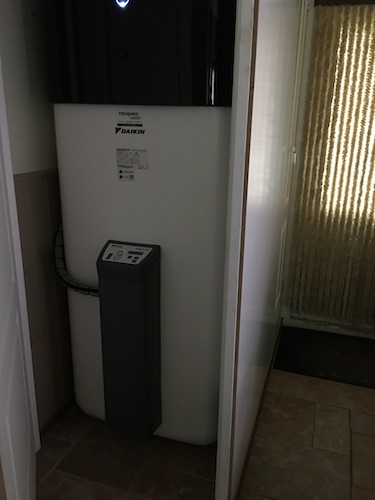 The carpenter has made a nice cabinet around the heat pump.
November: our German neighbour Inge gets some guest beds. Herbert and his son Jan help carrying the lot next door.
When in Haulerwijk, we receive message that our friend Ben has passed away. Not entirely unexpected, but still it comes as a shock. The next day we can attend the lewayah in Amstelveen. May his memory be a blessing.

Material for the future fence in Großenkneten is delivered.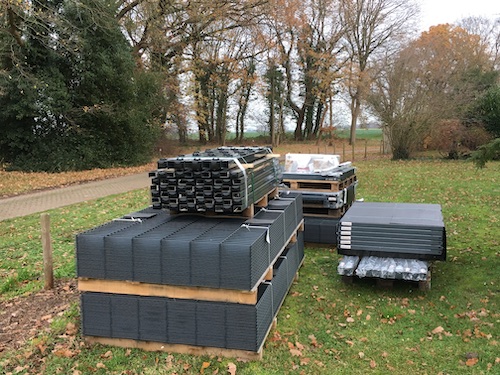 It pays to fill up the vehicles in Germany! Eventually we'll have to get used to the Dutch fuel prices.
December: Herbert and Eileen are in Großenkneten every weekend. They work hard and the fence grows at an incredible speed. We must deregister in writing with the municipality - because of Corona.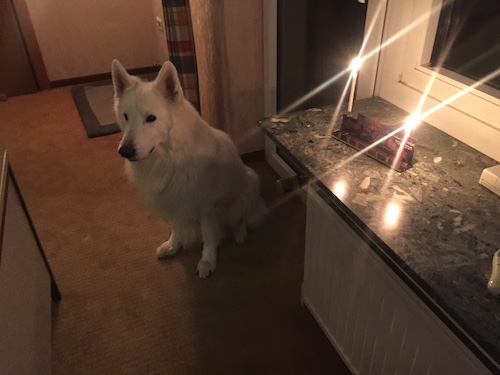 We light our Chanukka candles in two countries. Transport has to go on, we don't have much time left.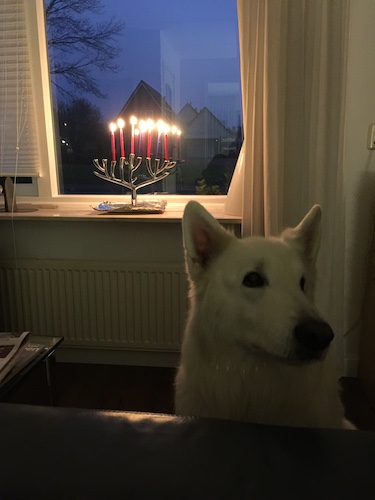 Because we have more vehicles than driving licences, we are happy that Dirk, our Dutch neighbour, is willing to come along to Germany and to drive back the Outlander.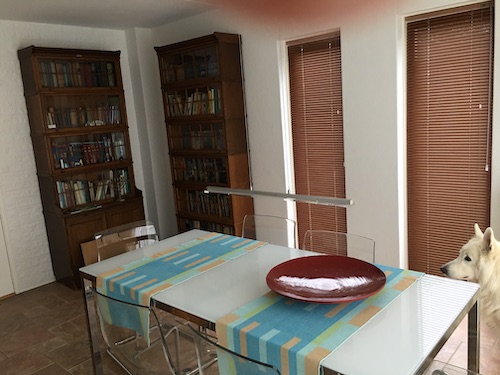 In Haulerwijk the rooms look more and more liveable.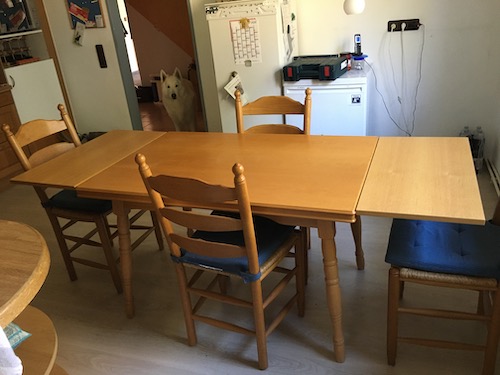 After we have sold the very last kitchen furniture, the kitchen becomes a camping site.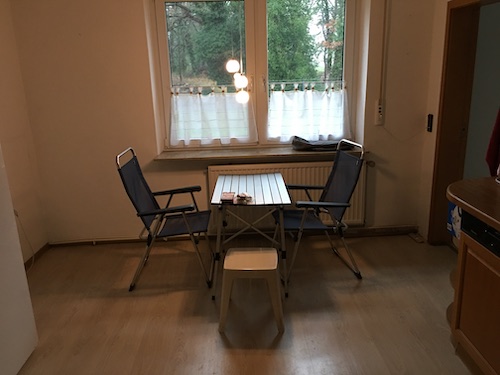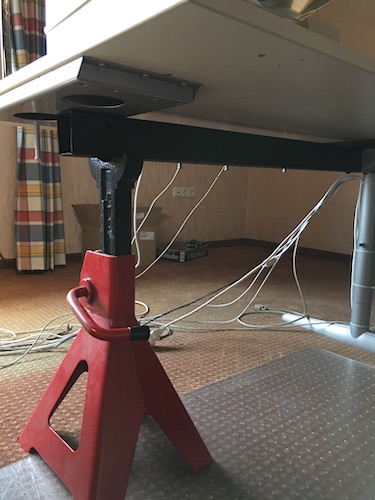 In the very end we already had installed most of our desk legs in the new house. So, to be able to keep using our "office" in the old house, we used 12 tonnes axle supports to keep our desk horizontal.
Last removal trip takes place on December 27th.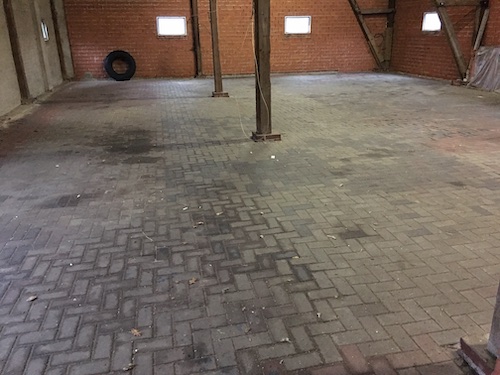 This picture symbolises the end of our project: we did it!! With thanks to all who helped, especially Dirk & Anita and Herbert, Eileen and Jan.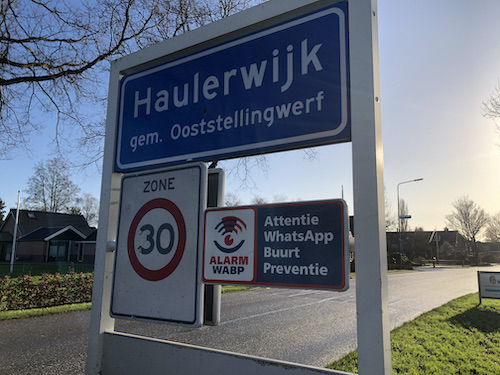 And as of January 1st, 2021, our new residence is: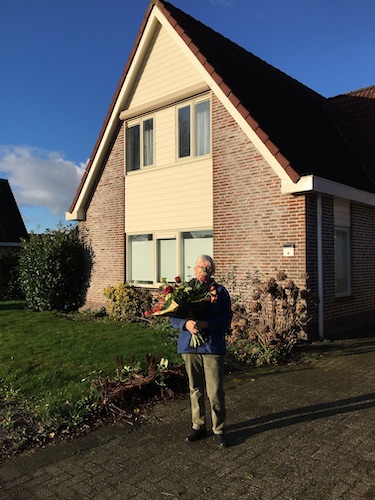 One of the first ones to congratulate us on our new house, was Elisabeth, president of the Oldenburg shul. She sent us a beautiful bouquet.

In December 2019 we had the following plans for 2020:
Ernst will end his board membership at the end of 2020

the Wanderlodge must be sold (it is unclear whether Ernst will be able to keep his HGV driving license)

the motorbike must meet its registration requirements

we are on the waiting list for a Shingrix vaccination, so that hopefully we will stay clear of shingles in the future

we bought a new house, in Friesland (northern part of the Netherlands) and will gradually move there in the course of 2020 (closer to supermarket, public transport and our Dutch family)

hence, our house in Großenkneten will be for sale.

  Did we reach our goals?
a

t the annual members' meeting in February 2021 I handed over the vice-presidency.
the Wanderlodge has been sold.
it was not possible to get a German registration for the motorbike. However... after our move, it got its Dutch registration back in the first quarter of 2021 without any problems.
in the course of 2020 we were both vaccinated against shingles twice.
at the end of December 2020 our move to Dutch Friesland was a fact.
our house in Großenkneten has been sold and transferred.
So, all in all, we think we have succeeded in reaching our targets.