January '10
De afgelopen week heeft ons kleine hondje een druk sociaal leven gehad... Hij mocht mee op theevisite (zie foto), maakte veel vrienden bij een Bookcrossing meeting in Best en mocht zowaar ook nog naar het Mensa borrelpraatje in Herenthout. Na even onwennig rondkijken ligt hij heel braaf aan onze voeten.
Motek's socializing goes on! He has accompanied us on a short visit to friends in The Netherlands, to a Bookcrossing meeting and to a Mensa pub meeting in Belgium. On all these occasions he behaved like a good dog should.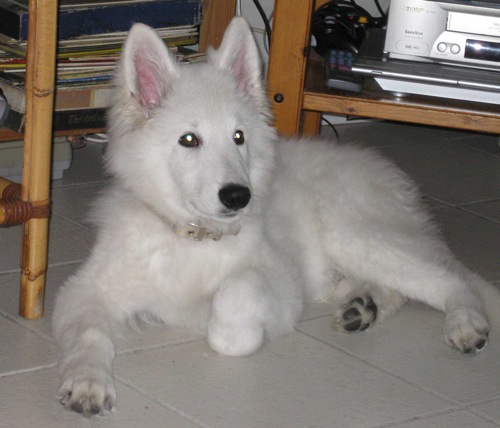 foto I. de Cock

Inmiddels is hij 16 weken en weegt 15.9 kg.
At 16 weeks Motek now weighs 15.9 kg (35 lbs)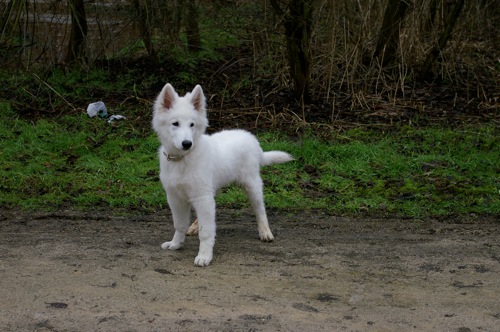 Hij is een echte slungel aan het worden met twee grote hobby's: schrokken en ...
The snow is gone (for the time being). Motek is turning into a true gangling adolescent. His two passions are: guzzling his food down and...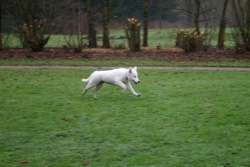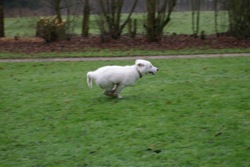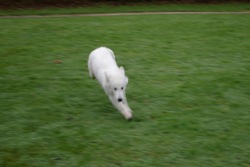 ... rennen!
... running!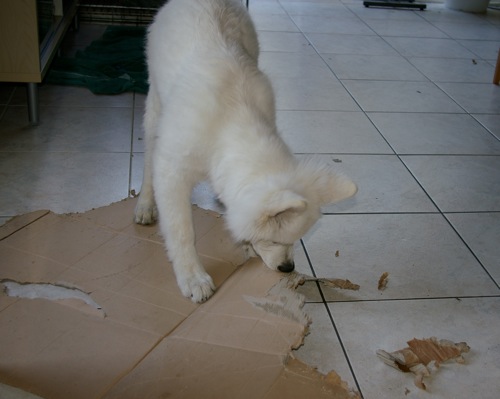 Oei! Bijna een hobby vergeten.... karton versnipperen!
We almost forgot to mention shredding cardboard is also one of Motek's favorites!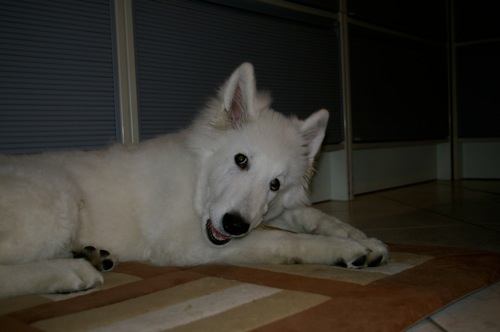 En een gedroogd koeienoortje gaat er ook wel in!
And a dried cow's ear makes a nice snack, too.

Motek is aan het wisselen. Z'n derde snijtandje linksboven ontbreekt. En daaronder verschijnt al de punt van de blijvende tand.
Motek lost his first baby tooth. The permanent tooth is already starting to show.

19 wk: 19.2 kg (42.3 lbs)

Voor z'n eigen veiligheid heeft Motek besloten dat-ie een valhelm nodig heeft.
At Motek's average speed a crash helmet may prove useful.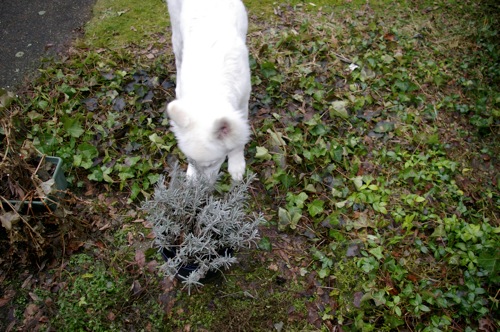 Eerst wordt zorgvuldig die overbodige plant uit z'n pot gehaald...
First one has to remove that unnecessary plant,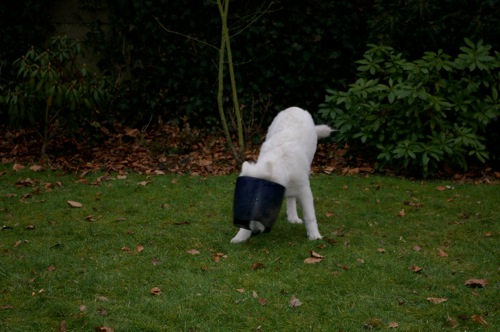 ... en dan maar eens kijken of de nieuwe helm past.
then the helmet has to fit.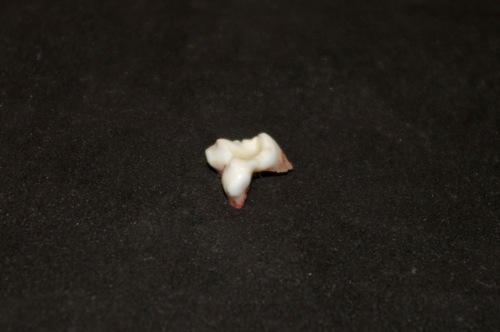 En vandaag vonden we zowaar een melkkiesje.
Today we were so lucky as to find a premolar. A rarity.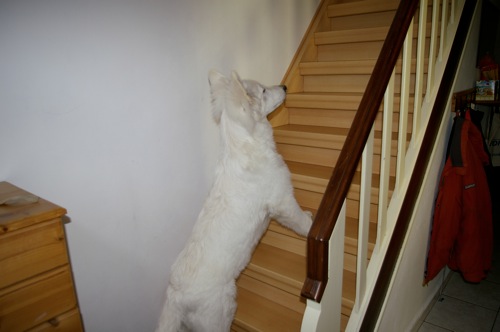 Vijf maanden oud, 22.8 kg. Hoewel het verboden is de trap op te gaan (i.v.m. de gewrichten), gaat het naar verwachting geen twee weken meer duren of Motek staat op eigen houtje boven...
50 pounds of dog will soon go upstairs... (Although we don't allow him to walk stairs because of hip and elbow joints.)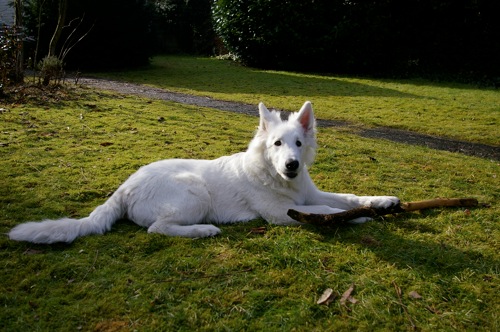 Wat is-ie al groot, hè...
Hasn't he grown up...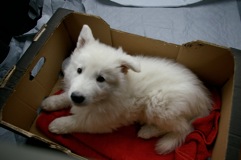 .. vergeleken met maar drie maanden geleden!
... compared to only three months ago?!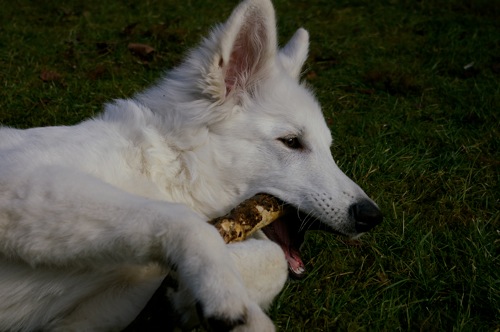 Naast alle zorgvuldig uitgekozen kauwspeeltjes gaat er niets boven een zelfgevangen stammetje.
Firewood is at least as much appreciated as all the scientifically designed chewing toys from the pet shop!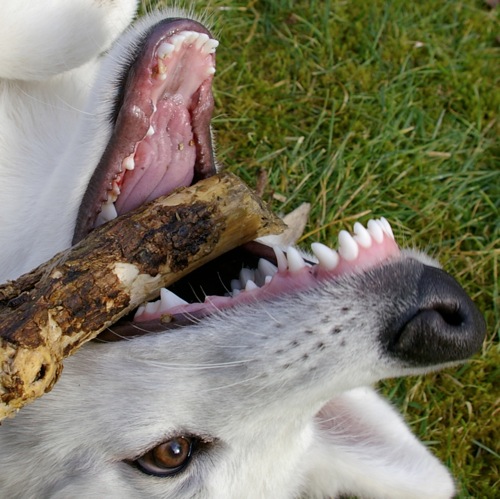 Dat fanatieke kauwen hangt samen met het wisselen, dat volop aan de gang is. Op deze foto zie je naast de nieuwe, stoere hoektand linksboven, nog het vlijmscherpe melktandje zitten.
The chewing has to do with him getting his permanent teeth. One can see the new left top canine tooth next to the sharp small old one.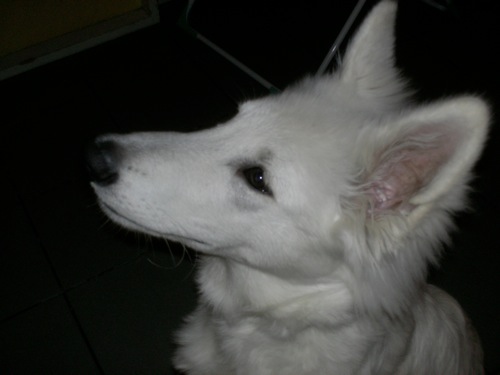 Vorige week hadden we een tentamen op de Antwerpse Universiteit. Omdat je daar moeilijk met een hond kunt aankomen, heeft Motek een paar uur bij onze vrienden in Schoten verbleven. Hun oudste dochter Andrea heeft deze mooie foto gemaakt.
We had to leave Motek for a few hours at our friends' place in Schoten when we had to take an exam at the Antwerp University. Their daughter Andrea (8!) took this beautiful picture.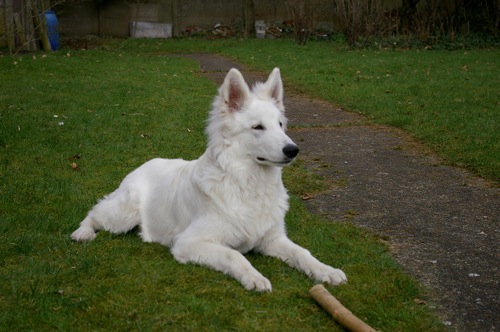 23 maart 2010
Vandaag is Motek precies een half jaar oud. Hij weegt nu 25.8 kg.
March 23rd, 2010
Today Motek is six months old. His weight is now 57 lbs.
Go to top of page