Home
Vandaag is onze Motek acht weken oud, oud genoeg om het ouderlijk huis te verlaten.
At eight weeks our new baby, called Motek, is old enough to leave his childhood home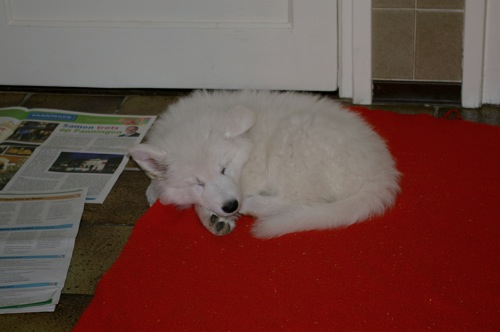 's Morgens ligt hij nog bij de familie Peeters in de keuken te slapen.
Here he is sleeping on the breeders' kitchen floor, ignorant of the changes that will come.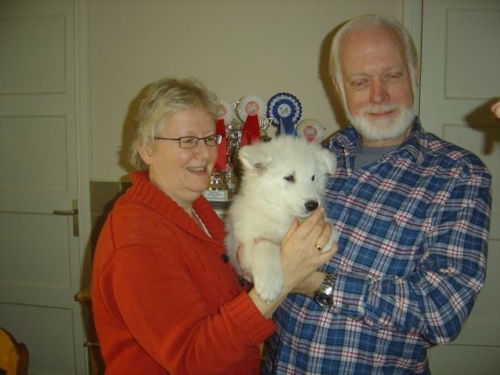 Staatsieportret bij het afscheid.
The official farewell picture.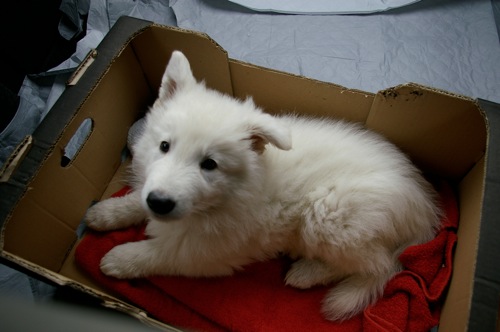 Achter in de auto begint hij zacht piepend aan de reis...
In his box in the back of our car he first is looking around alertly...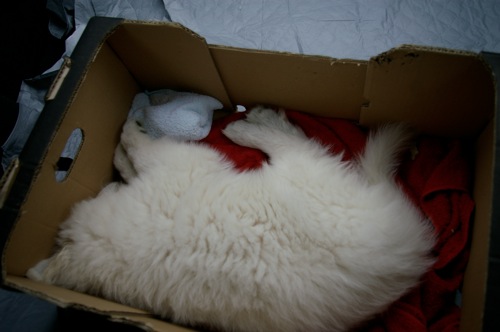 ... maar als er niets interessants blijkt te gebeuren, gaat-ie maar lekker slapen.
... but by lack of interesting events he decides he might as well go to sleep.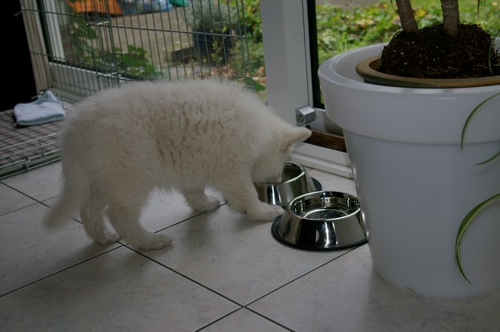 Hoewel we gewaarschuwd waren dat hij in het begin waarschijnlijk nauwelijks zou willen eten, bleek hij toch bijzonder geïnteresseerd in een hapje!
After the 75 minutes trip Motek enjoys his first meal in his new home.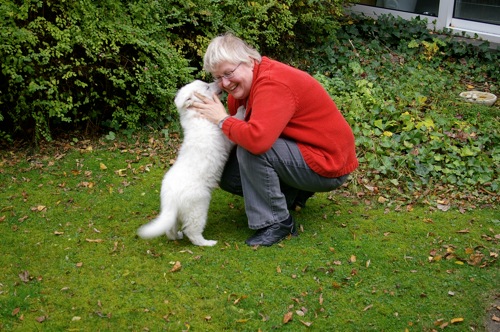 Na het eerste plasje buiten wordt Motek natuurlijk uitbundig geprezen. En daar is hij op zijn beurt blij mee. Dus Sylvia krijgt een knuffel.
After "being a good dog" outside Sylvia praises him extensively. Here he shows his gratitude.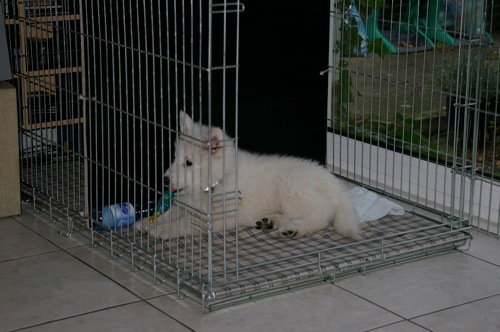 De bench moet Motek's eigen, veilige plekje worden. Hij gaat er al snel uit eigen vrije wil in liggen.
Motek has his own safe place in a crate (temporarily divided in two to create an area which fits his size).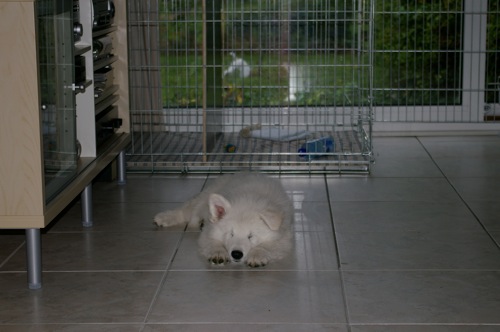 Maar om te slapen is die bench niet echt nodig!
Who needs a soft mattress for sleeping?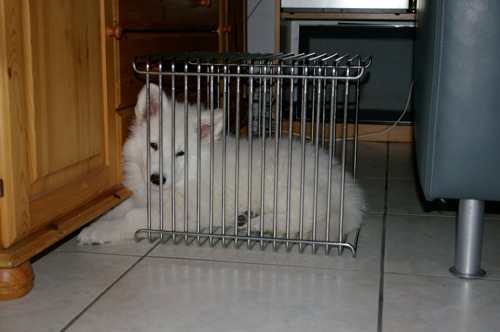 Misschien vindt hij zijn bench wel te groot... Hier heeft Motek zich zelf opgesloten in een bijzettafeltje.
Motek has decided this little side table can serve as a crate as well.

Na twee keer dweilen de eerste dag geeft Motek nu, na twee dagen bij ons, duidelijk aan wanneer hij naar buiten wil voor de kleine of de grote boodschap. Ook gaat hij graag in z'n bench liggen, maar dan wel met de deur open. Hij leert extreem snel!
After only two days with us Motek gives a clear signal when it is time for the necessary walk. The speed and ease of his training are incredible.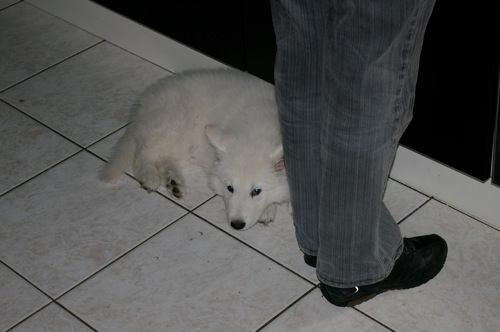 Maar het allerliefst is hij dicht bij ons, met name bij Sylvia. Ook als ze in de keuken bezig is.
His favorite location, however, is as close to us as possible. Here Sylvia is cooking and Motek is about three inches away.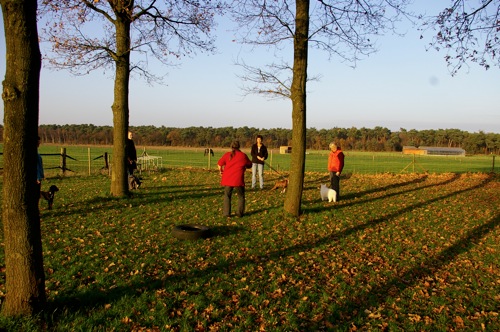 Bij Hondenschool Batch (Beloningsgerichte Aanpak van Training en Coaching van Honden) vinden de instructeurs dat je niet jong genoeg kunt beginnen met de opvoeding. Met z'n achteneenhalve week was Motek de allerjongste. Het kostte wat tijd eer hij aan al die andere honden gewend was. Hij had per slot van rekening tot dusverre alleen maar witte familieleden ontmoet!
Today was Motek's first lesson. Rather than the actual training he used the hour to get accustomed to the presence of other dogs. Until today he had never seen a dog which wasn't a White Shepherd...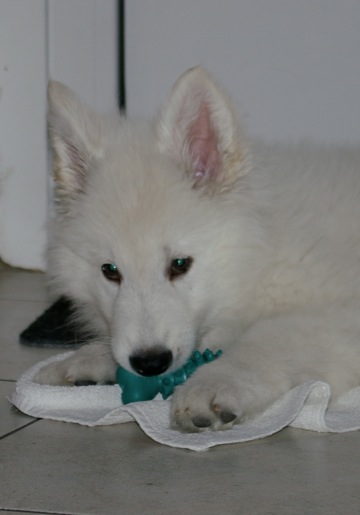 Vandaag is Motek precies negen weken oud. Hij heeft dit gevierd door stiekem de kabel tussen VoIP-modem en het centrale toestel van de telefooninstallatie door te knagen. Misschien moeten we de bench ook overdag gaan gebruiken. Al is het maar ter bescherming van het hondje zelf...
Hij weegt nu 7.3 kg. Nog een eind groeien dus!
Motek is now 9 weeks old. He has isolated our household from the public telephone network quite effectively by cutting the feeder wire in two. We're afraid we have to lock him in a bit more often to protect him from live wires. He now weighs 7.3 kg (16.1 (US) pounds).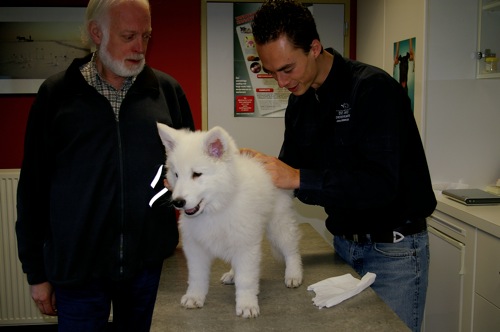 Negen weken is ook de leeftijd voor de eerste echte grote-hondenprik. Dus op naar de dierenarts. Motek draagt de prikken die hij krijgt en het bijpassende onderzoek als de stoere herder die hij nog moet worden.
At nine weeks it's time for the next shots against distemper, parvo and leptospirosis. Motek bears all this as a brave dog should!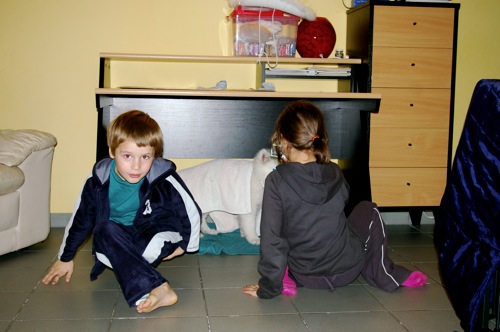 Op de terugweg bij onze vrienden in Schoten langsgegaan. Ons hondje heeft er nu vijf fans bij (twee volwassen; drie kinderen). De kinderen die drijfnat door een wolkbreuk uit school thuiskwamen, vonden dat ook Motek een handdoek verdiende.
Our friends who live in the Antwerp region have blackmailed us to come and see them wìth Motek. The dog behaved so well we now are very proud of him.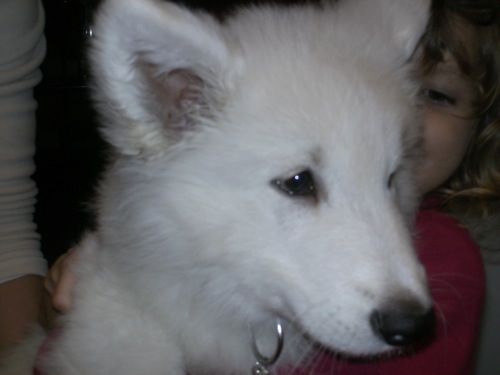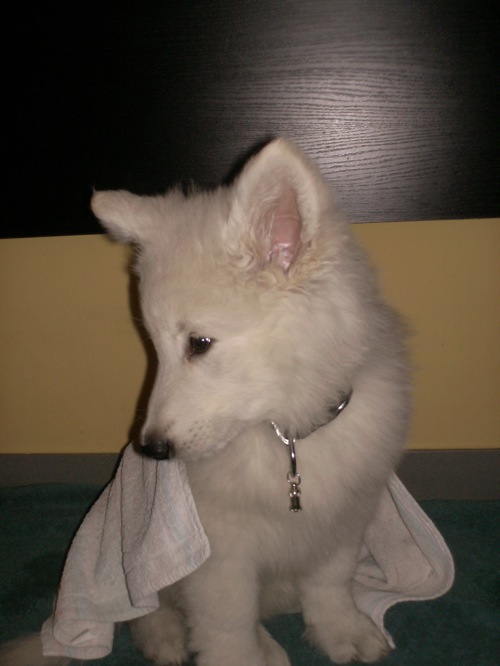 foto's: Andrea Wagemakers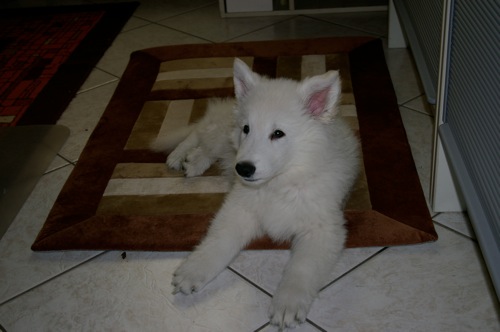 Vrijdagmorgen:
Zo'n pup heeft een simpel leventje:
50 % slapen;
20 % lief zijn;
30 % slopen.
Het hele opvoeden bestaat enkel en alleen uit het verschuiven van die percentages...

Omdat we regelmatig achter onze Apples te vinden zijn en we met het oog op bovenbedoelde
30 % daarbij Motek niet uit het oog durven te verliezen, hebben we een hondenkleedje achter ons bureau gelegd. Op het commando "Computer!" dribbelt hij nu langs de kortste weg (d.w.z. onder het bureau door) naar zijn plaatsje en gaat daar liggen. Wat een makkelijk opvoedbare hond!
Maar tot onze verbazing loopt hij zo onhoorbaar als ware hij een kat, dus vanuit een ooghoek in de gaten houden is en blijft noodzaak!

Next day:
Educating a young dog is just a matter of time management!
At this stage Motek spends 50 % of the day sleeping; 20 % being a good dog; 30 % wrecking anything within reach. All we have to do is changing these percentages. It's as simple as that!

We are spending quite some time behind our keyboards. Hence it seemed useful to have a spot nearby where we can keep an eye on our pup (who without supervision immediately starts his 30 % wrecking time...). Upon the command "Computer!" Motek takes the shortest way to his dog cushion and lies down. What a good dog!
But still we have to keep a close eye on him. Because as soon as he gets bored, he tends to sneak away as inaudibly as a cat to continue his wrecking work elsewhere.

28-29 november







 
Het begin van dit weekend was het nat, nat, nat. Bovendien had Motek regelmatig last van buikpijn. Heel zielig, dat gepiep, maar o.i. net niet erg genoeg om de dierenarts te alarmeren.
Gelukkig hadden we een vriend uit Nederland te logeren, dus dat zorgde voor wat afleiding.
The weekend started like the next deluge was about to start.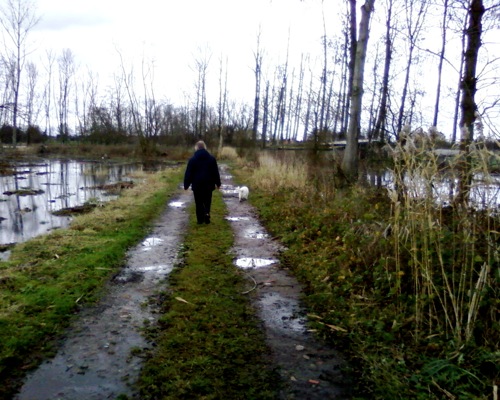 Zondagmiddag klaarde het vrij plotseling op, dus we besloten Motek eens uit te laten in een gezellig bosje, een paar honderd meter ten noordwesten van ons huis. Bij aankomst bleek echter dat de Gemeente het bos vrijwel geheel had gekapt.
Achteraf blijkt dit terrein op de topografische kaart te staan als "Drasland met diep moeras en veenput". Met ons "bosje" zaten we er dus helemaal naast. Ons kleine hondje blijkt (alweer) niet bang voor natte pootjes.
But on Sunday afternoon the sky was bright again and we took Motek for a walk in a close-by nature reserve. Last time we were there it was a friendly little wood area. Not so now!
A look at the map showed us that the area is marked "Marshland with deep swamp and peat-bog". So we just have been lucky when we were there last Summer.
But our little Motek showed once more he has nothing against wet feet!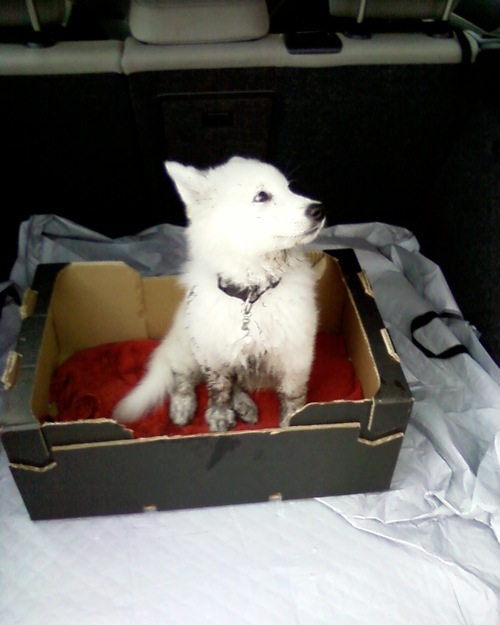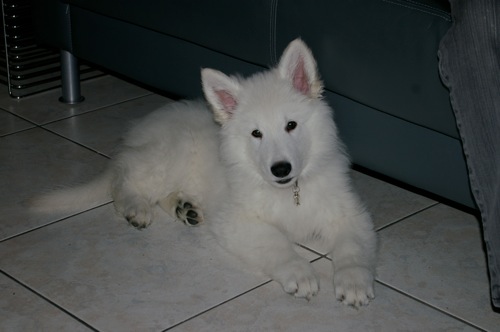 Vandaag is Motek alweer 10 weken. Hij weegt nu 8.2 kg. Zijn favoriete plekje is aan de voeten van één van de twee baasjes. En helemaal mooi is het als we allebei aanwezig zijn!
De afgelopen week heeft hij last gehad van pijn bij het (te hard) persen op (te kleine beetjes) ontlasting. Twee dagen na aanvang van een antibioticumkuur tegen een ontstoken dikke darm lijkt alles weer te zijn zoals het hoort. Dus tussendoor weer volop tijd voor kattenkwaad.
Motek now is 10 weeks old. He weighs 8.2 kg (18.1 US Pounds). The past week he had a colitis which caused pain upon defecation. Now, after just the first two days on antibiotics, he is well again. Which means mischievous as well...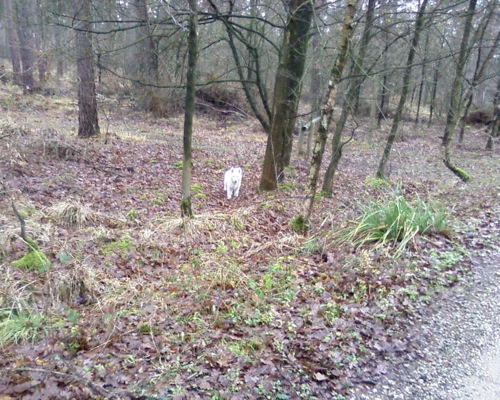 Vandaag (3 dec) wezen wandelen in natuurgebied De (Het) Epelaar. Klein hondje in het grote bos.
Thursday we took a walk in a municipal nature reserve, 5 minutes from our house. We're lucky Motek is white and not camouflaged!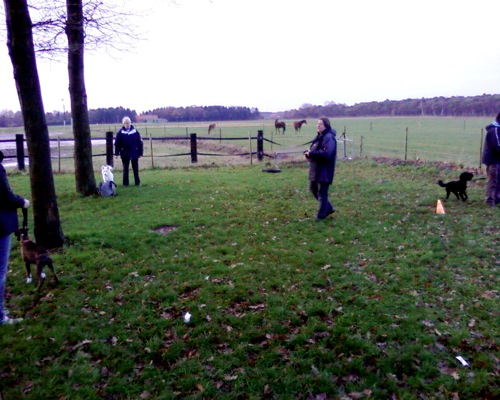 5 dec 2009: Motek's tweede les in de hondenschool. Zitten, liggen en weer staan, maar dan wel op commando...
Second lesson in Puppy School. The command "Sit!", "Down!" and "Stand up!" now have no more secrets for our little baby Motek.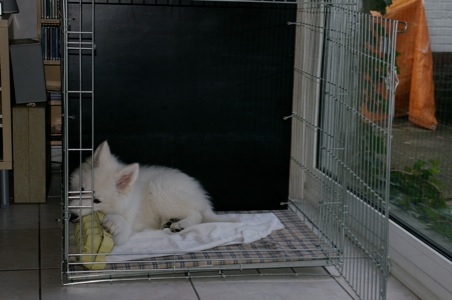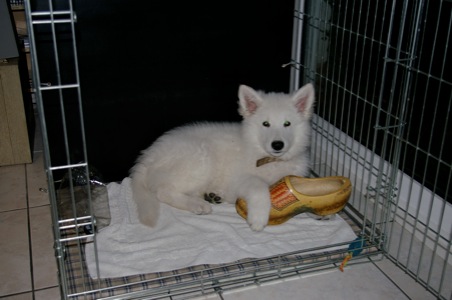 Motek is een echte gannef! De gestolen buit, hier een eierdoosje, gelukkig zonder eieren, een klomp en een vloerkleedje, wordt onmiddellijk meegesleurd naar zijn rovershol...
Motek is good at stealing all types of things. The loot can be found back in his crate. He considers it his private cave.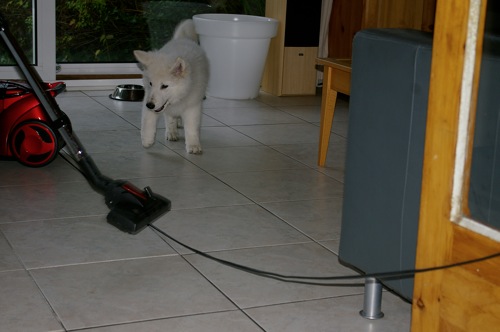 9 december. Leeftijd: 11 weken. Gewicht: 9.6 kg. De stofzuiger dreigt ten prooi te vallen aan een verrassingsaanval.
Motek hasn't made up his mind yet if the vacuum is friend or foe... Today he is 11 weeks old and weighs 9.6 kg (21.2 US Pounds).
Go to top of page