... and further
Een zeldzame gebeurtenis: Motek op de bank.
Motak on the couch doesn't happen that often.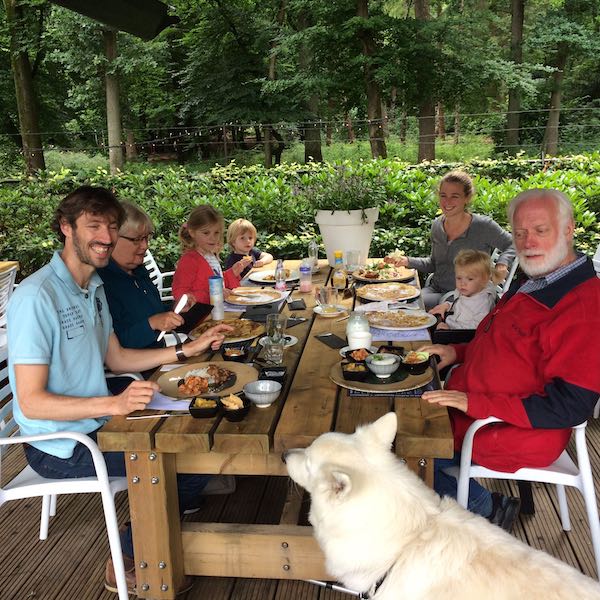 Juli 2017: familie-etentje in Zeist.
Pancakes with the family. And Motek, of course.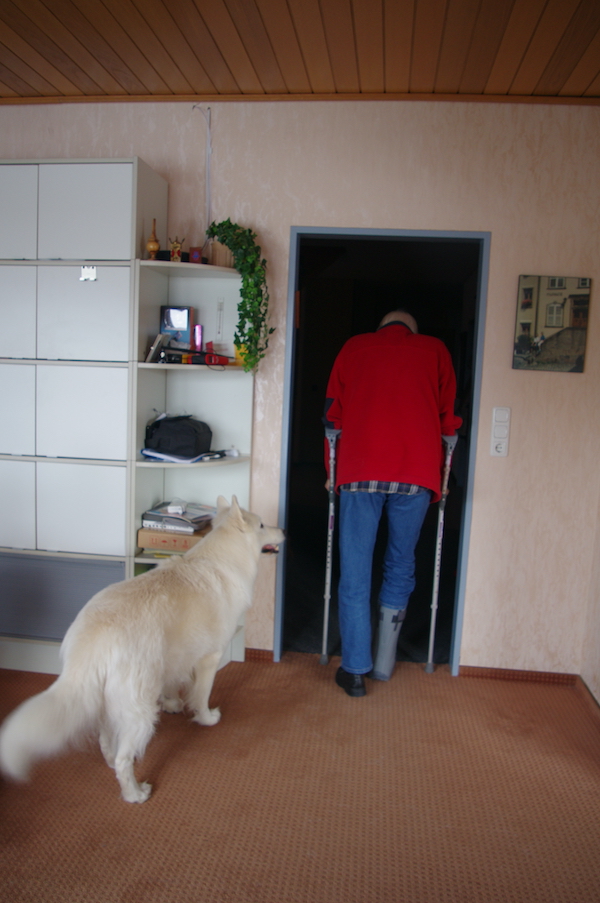 Baasje even minder mobiel... voor Motek geen verschil. Hij blijft, als altijd, dichtbij.
Follow the leader, even when on crutches.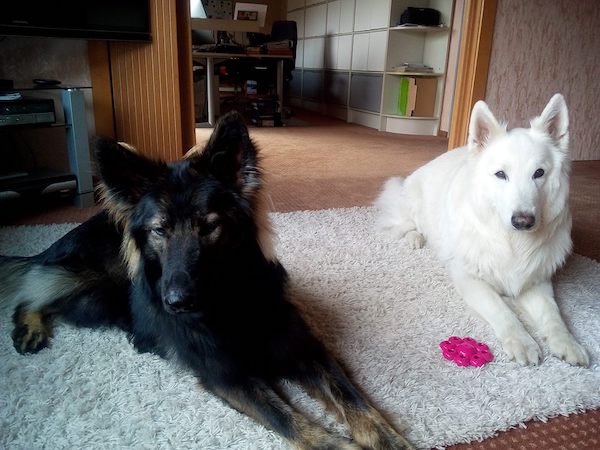 Bezoek van Blitzen.
Our trusted dogsitter and her shepherd come to stay.
foto ©Gralike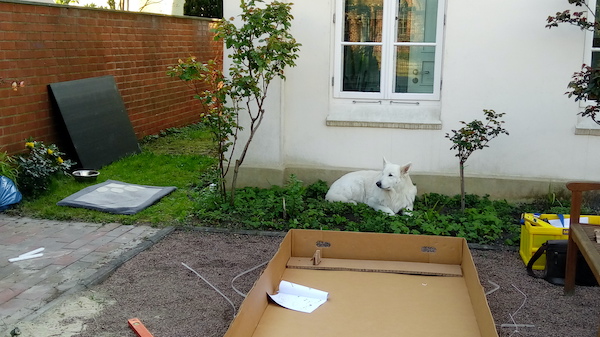 De baasjes bouwen een schuurtje in de tuin van sjoel in Oldenburg. Uiteraard moet Motek erbij zijn. En... ligt hij niet op zijn gespreide bedje!
In the Oldenburg synagogue garden, while we are constructing a garden shed.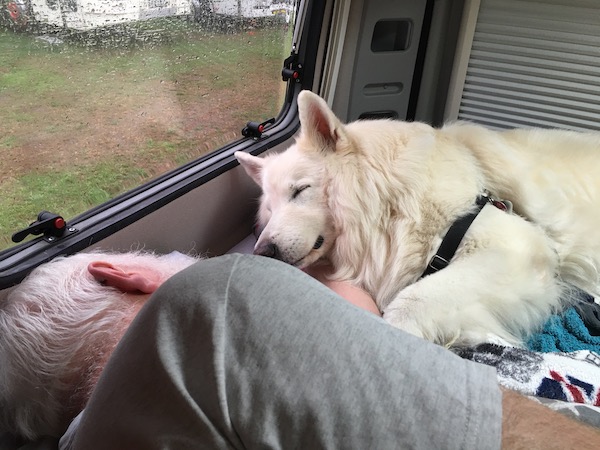 Ook onderweg: als de baas een uiltje knapt, wil Motek er vlak bij zijn.
Together taking a nap in the motorhome.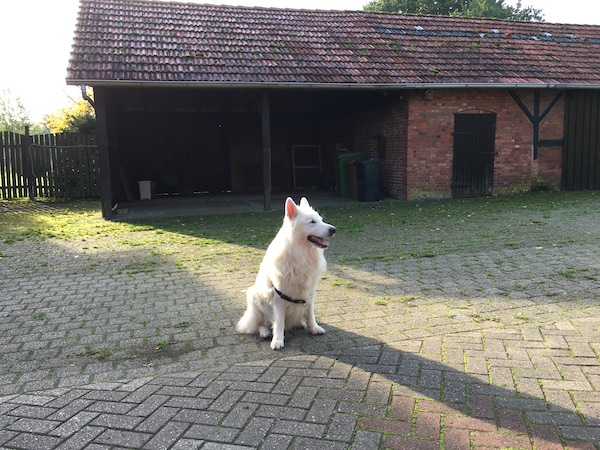 Op het erf in Sage-Haast.
Sitting guard on our German property.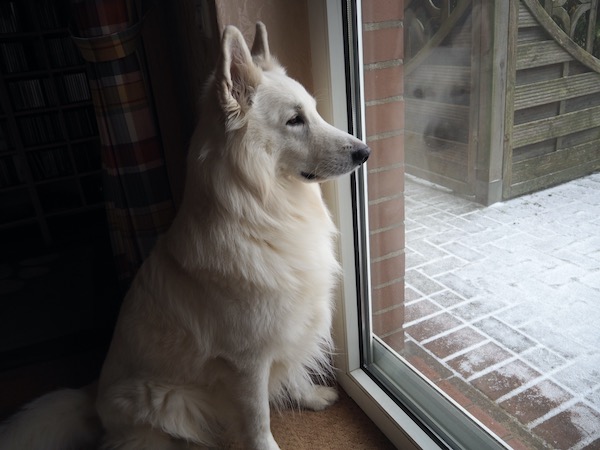 Voor onze remigratie nog een laatste blik op Sage Haast.
One last look before we say goodbye to Sage-Haast.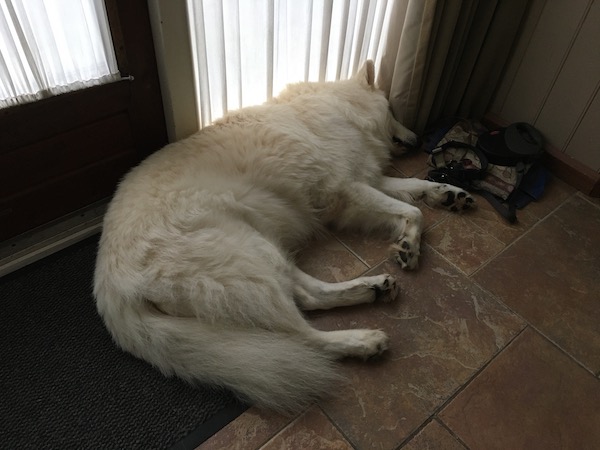 In het nieuwe huis bepaalt Motek wat vanaf nu zijn favoriete slaapplek gaat zijn.
Back in the Netherlands: Motek decides what will be his new favourite place.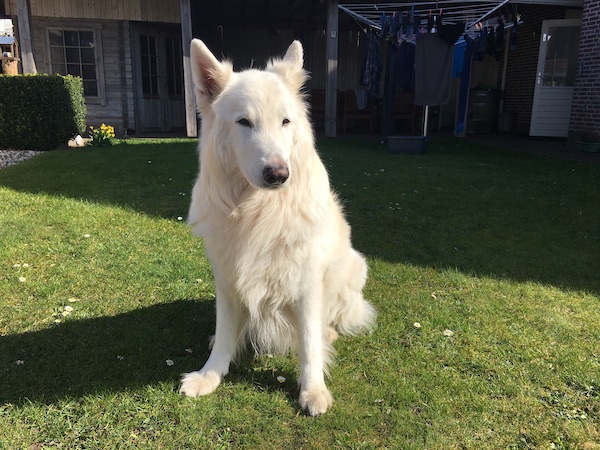 Statieportret 12½ jaar oud.
"Official photo" on the occasion of his 12½ th birthday.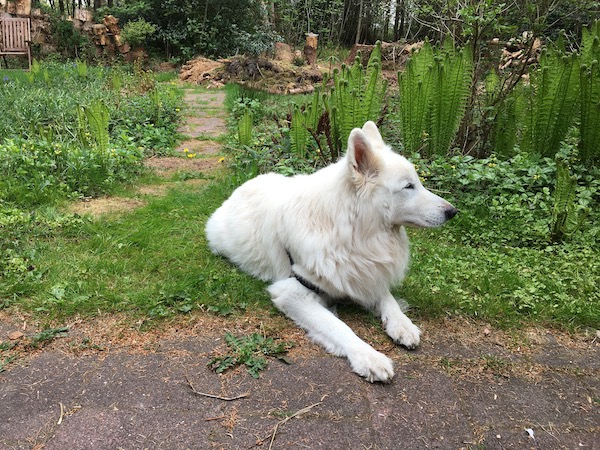 Motek helpt een onderkomen voor Oekraïense vluchtelingen gereed te maken.
While we prepare a cottage for Ukainian refugees, Motek watches for intruders (who didn't come).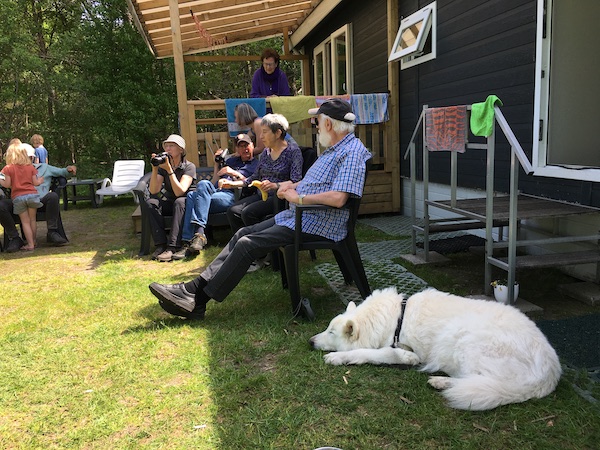 Mei 2022: Kineret viert haar 70e verjaardag in Drenthe.
Another family reunion. As long as he is with us, Motek doesn't mind.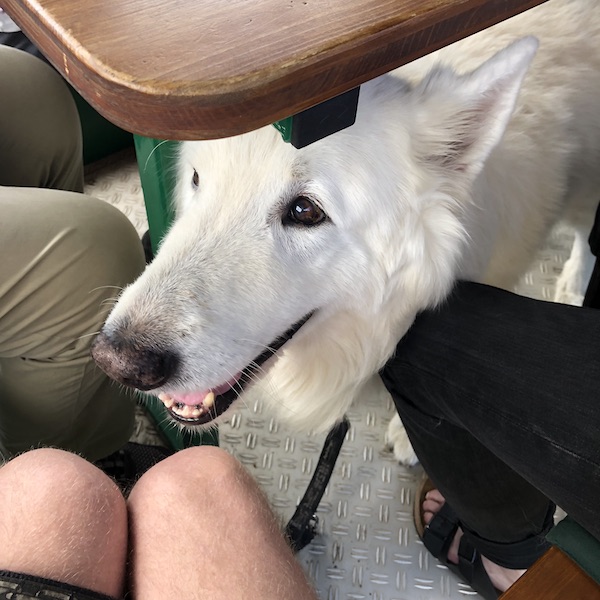 Weinbergrundfahrt  t.g.v. Stevie's 60e verjaardag. Zo'n huifkar is niet ideaal voor een hond, maar, als-ie maar bij de baasjes kan zijn, is Motek heel inschikkelijk.
Our friend Stevie organised a covered wagon tour through the surrounding vineyards. Wìth dog!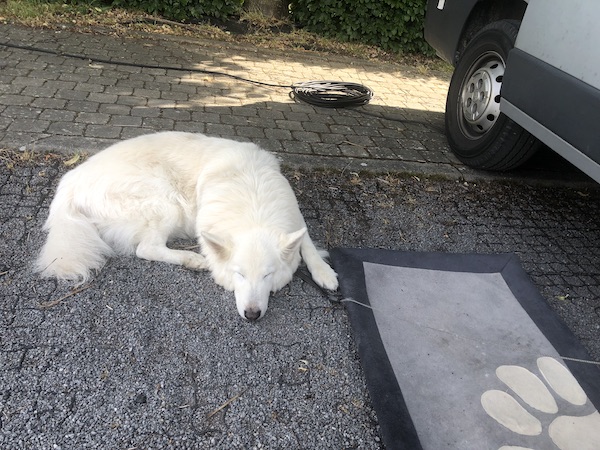 Han-sur-Lesse (B). Eigenwijs als altijd ligt Motek náást z'n matje.
Motek, completely at ease, next to his mat (Belgium).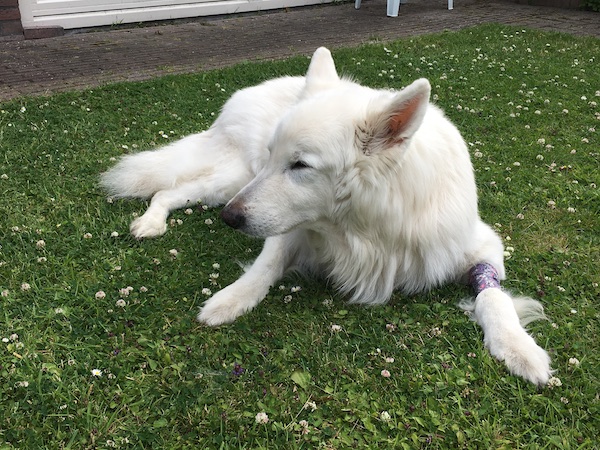 5 juli 2022: Het gaat niet goed met Motek. Hij krijgt al geruime tijd een aangepast dieet en de laatste weken grote doses medicijnen. Om zijn leverwaarden te bepalen wordt er bloed afgenomen. Van de punctie en het verbandje achteraf trekt hij zich niet zoveel aan.
Motek has been ill for some time. The vet took some blood to check his liver function. As a reward for being brave he got a colourful bandage.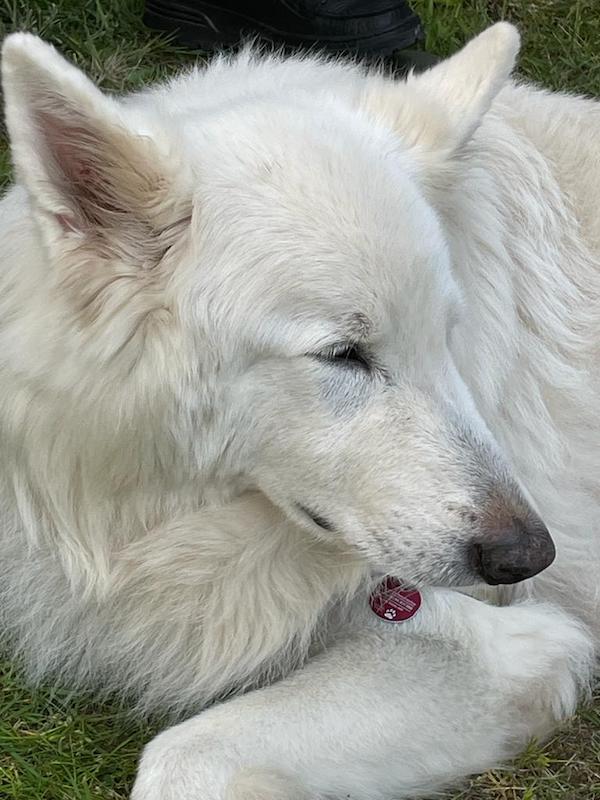 11 juli 2022 was voor ons een heel treurige dag. 
Na bijna 13 jaar hebben we afscheid moeten nemen van Motek, ons witje. Zijn leverfalen reageerde niet meer op de medicatie en op het leverdieet. Hij sliep steeds langere perioden en had, wanneer hij stond of liep, moeite niet om te vallen. Uiteindelijk hield hij ook op te eten en drinken.
Sinds november 2009 heeft hij ons verdedigd tegen wat híj bedreigend voor ons vond. Over de mate van dreiging waren wij het niet altijd eens :-)
Het is een vreemd idee nooit meer in die grote bruine ogen te kunnen kijken, nooit meer die fluwelen oortjes te kunnen aaien.
Dank aan dierenartsen Esther en Wytske van Dierenartsencentrum "de Stellingwerven", die gedaan hebben wat ze konden. Maar tegen de combinatie van de leverkwaal met de (voor een herder) hoge leeftijd bleek geen kruid gewassen.
The 11th of July, 2022 was a very sad day for us. 
After almost 13 years we had to say goodbye to Motek, our white shepherd. His liver failure no longer responded to the medication and the liver diet. He slept for longer and longer periods and, when standing or walking, had difficulty in not falling over. Eventually he also stopped eating and drinking.
Since November 2009 he has been defending us against what he considered to be a threat to us. We did not always agree on the degree of threat :-)
It is a strange idea never to be able to look into those big brown eyes again, never to stroke those velvet ears.